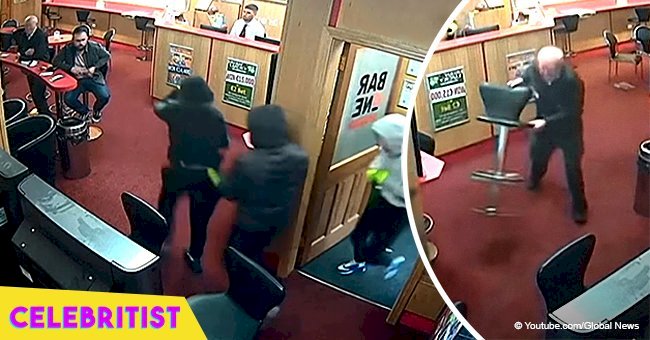 85-year-old grandfather fights off 3 would-be armed robbers at betting parlor in viral video

An Irish 85-year-old man was labeled as a hero after he fought off three robbers who barged into a sports-betting bar in Glanmire, Ireland.
In the recording that Global News uploaded to its YouTube channel, Denis O'Connor and another man were sitting on a table looking at the TV screens in front of them. A third man was behind the counter also staring front.
Suddenly, three people wearing ski masks got into the store armed with hammers and a sawed-off shotgun. The younger man sitting next to O'Connor laid on the ground and rolled under the table.
O'Connor stayed still waiting for the criminals to do something. The one with the weapon threatened him, but the senior man looked unimpressed.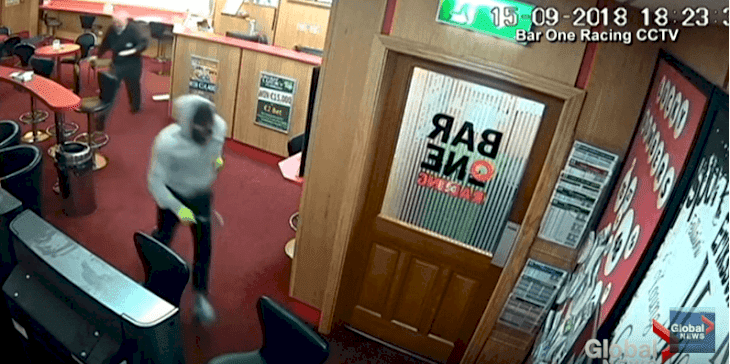 Source: YouTube/Global News
Two of the criminals jumped the counter and started attacking the manager of the bar, Tim Murphy, but O'Connor went to rescue him. The octogenarian started fighting one of the criminals whose only reaction was to escape.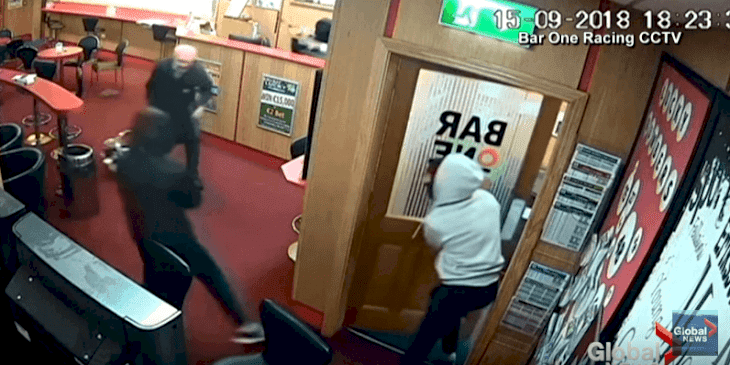 Source: YouTube/Global News
O'Connor chased him, but couldn't get it. When the would-be thief who was holding the shotgun saw that, he pointed at the senior man, but he picked up a stool and scared off the second criminal.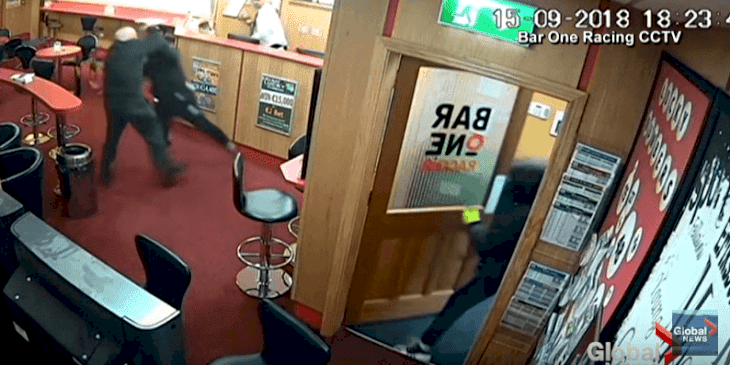 Source: YouTube/Global News
The third and final thief was fighting Murphy behind the counter and tried to escape; however, O'Connor was between him and the door. The masked man attempted to jump his way out of the store, but the octogenarian kicked him once to make him fall to the ground, and a second time to push him out of the bar.
Murphy confessed that he owed O'Connor a "huge debt of gratitude" for his brave intervention. Authorities also praised the man for his courageous action but advised other people not to fight thieves as it could end up in a tragedy.
Something similar took place inside a store of a gas station in Auburn, Washington, when two teenagers refused to pay two pepperoni sticks. When the clerk confronted them, he suffered a heart attack.
Instead of calling for help, the teen took the $1 he gave the clerk and fled with his friend. Not satisfied, they returned and stole cigarettes and the money from the cash register amounting to $178.
Please fill in your e-mail so we can share with you our top stories!