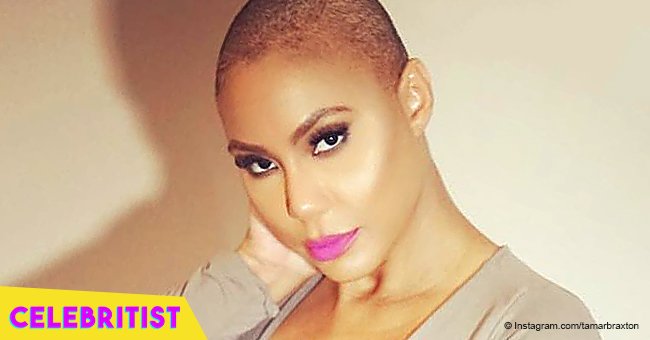 Tamar Braxton gets dragged after revealing she will be meeting her boyfriend's mother in Nigeria
Tamar Braxton reveals she's about to meet her new boyfriend's mother as fans warn her to be wary of the man.
Tamar Braxton has been very vocal lately about her Nigerian boyfriend who she started dating three months ago. And now it seems she's ready to move on to the next level – that is, to meet his mother. Her recent tweet reveals she'll be flying to Nigeria soon in time for the woman's birthday but fans are skeptic about it.
Gone are the days when Tamar would be silent about her new love life. She's moved on from her estranged husband Vince Herbert having recently confirmed serving him divorce papers. So it was just time she opened up about the man she currently has eyes for.
During the premiere of "The Wendy Williams Show," the singer provided details about her new man. She described him as a businessman with dreads and "a really nice body."
"He's fine! Hallelujah!", she exclaims before explaining how "lunchable" he is.
"met at a friend's birthday party, thank you God, he's so fine! I can't take it sometimes. It's like a whole snack — a Lunchable!"
Tamar also gushed about her LA-based boyfriend in one of her tweets recently while she was out with him and his friends.
"At a table full of Nigerian men and i don't know WTF they are saying... ion even CARE!!!! ALL I know is that THIS one right HERE next to me??...is FINE As HELL!!"
The singer was clearly smitten but a fan who had some reservations responded to her tweet by warning her about the dangers of dating Nigerian men.
"It's all fun and games till you find out they are legally married to a tribe of women in Nigeria."
In response, Tamar defended her boyfriend and let it slip that she'd, in fact, be meeting his mother soon.
"Sorry sis. He's been here since he was 21. No wife there but I'll let you know when we go there together for his mother's bday."
But another fan wasn't buying it and insisted Tamar do her own fact-checking.
"Going there isn't gonna prove anything Nigerian 419 people everyone is in on the con. The family the lawyer people at the court a lot of corruption. Have your people do their own investigation of your new boyfriend. Better safe then sorry."
At this point, Tamar is more likely inclined to turn a blind eye to the negative talk. One of her recent Instagram posts reveals she's at a place where she doesn't really care what others would say. To accompany a video where she flaunts her body in a floral bikini, the singer wrote,
"I think my biggest lesson is that everyone will say Anything/Everything about you. .... YOU make the Choice to receive it!!!! #noneedTBshame.com #thisisME."
It seems Tamar is taking control of her life. She's moving towards finalizing her divorce and she even took the initiative to tell the world about a secret she's kept about her troubled past. During her Wendy Williams interview, she opened up about being molested as a child by family members. She claimed it happened multiple times and her predators were relatives from both sides. Tamar later tweeted that she cried after her revelation "because once again my right to choose was taken from me all over again."
Please fill in your e-mail so we can share with you our top stories!