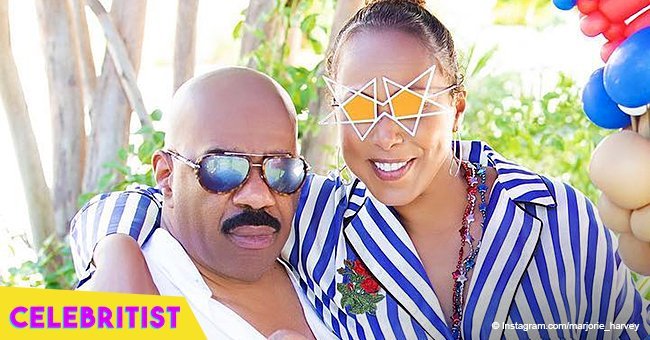 Steve Harvey and wife glow with joy in photo with their newborn grandson who has cute hair
Steve and Marjorie Harvey shared some photos of their grandson Ezra, and everyone is talking about his hair. On the other hand, Steve may not be as happy as Marjorie thinks, judging from what he said about two weeks ago.
In one photo, the proud grandparents are pictured together as Marjorie cradled Ezra in her arm. "All smiles over here," Steve wrote, but the cutest smile came from Ezra nestled in a white blanket. Another photo showed Marjorie bonding with her grandson as she slept on her chest.
Fans of the talk show host and his wife filled the comment section with sweet remarks about their bundle of joy. Most could not get past Ezra's full head of hair.
"Look at all that hair," one user gushed.
Another said: "He's Beautiful! Congratulations! Wow, he has a head full of hair!"
Marjorie announced back in April that she was expecting her fifth grandchild. Her son, Jason Harvey and his model girlfriend Amanda were having a third child. Jason and Amanda already had two children, Noah and Rose.
When Era was born on September 6, it was also Marjorie who took to Instagram to inform the world. The excited grandma wrote:
"Welcome Ezra Nehemiah Harvey. Amanda and Ezra are both doing well. 7 pounds 12 ounces #blessed #grandson"
A couple of days later, Steve also shared a photo of his latest grandson who he calls the tie-breaker. Before Ezra, Steve and Marjorie had four grandchildren: a boy and a girl from Jason and Amanda; one boy from Steve's daughter Karli; and another girl from Marjorie's daughter Morgan.
While the comic personality loves his family, he doesn't seem to be as stoked about the grandbabies anymore. In hilarious footage from his show, Steve lamented losing his privacy to the little ones and shared his predicament with the studio audience on "Steve TV Show":
"I've been waiting years for my kids to get out of my house. I wanna be an empty nester. Now they come back to the house and they got some more people with 'em. They always bring 'em over and drop 'em off. Now, I been talking to my girl all day long. All we been talking about was what was gon' happen tonight. Then, I get to the house and here they is!"
Sorry, Grandpa Steve. You'll have to get used to having the little ones around.
Please fill in your e-mail so we can share with you our top stories!