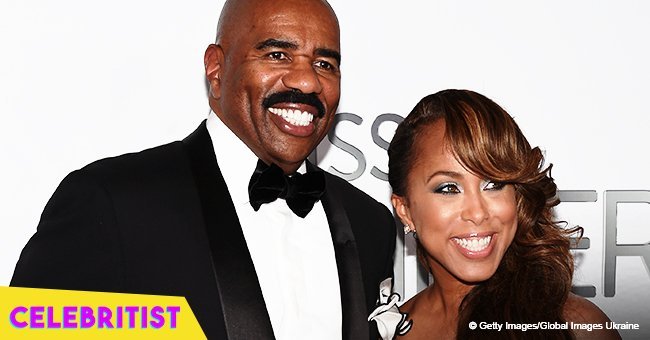 Steve and Marjorie Harvey welcome grandchild no. 5 and reveal his beautiful name
Steve and Marjorie Harvey are grandparents again! Marjorie took to Instagram some hours ago to share the good news and reveal the name of their latest addition.
Alongside a visual illustration of blue balloons that read "It's A Boy," Marjorie informed their fans that the new mother and baby were doing fine:
"Welcome Ezra Nehemiah Harvey. Amanda and Ezra are both doing well. 7 pounds 12 ounces #blessed #grandson"
The newborn's parents are footwear entrepreneur Jason Harvey, and his model wife, Amanda.
Ezra brings the number of grandbabies to five for Marjorie and her famous husband, Talk Show Host, Steve Harvey. He joins their other grandchildren- Noah and Rose, Ezra's older siblings; Elle and BJ, whose parents are Morgan and Karli respectively.
The 53-year-old grandma had earlier gotten the honor of revealing the gender for Jason and Amanda's third child. She announced in a video recording that her children were expecting a baby in September. Piercing a black balloon with a pin, the beautiful grandmother sent blue ribbons flying as she screamed, "It's a boy!"
Despite their blended family, Steve, 61, and Marjorie have succeeded in keeping their brood united and happy. Without being told, one might not guess that the power couple does not have a biological child together. Their combined seven children are from each partner's previous relationships.
The "Act Like a Lady, Think Like a Man" author told People in 2016 that it was quite challenging bringing their blended family together. He merely said to the kids:
"Look, you don't like it? Deal with it. I don't need y'all's permission."
Marjorie took a more sensitive approach, as she explained:
"When you're dealing with a blended family, everyone is coming from a place of broken. We knew this was right. But I just told them, 'Everyone is included. Everyone has access to their parents. Whatever you didn't have before, don't let that interfere with what you can have now.'"
Steve has four children from two previous marriages- Brandi, Karli, Broderick, and Wynton- while Marjorie has three form her earlier marriage- Morgan, Jason, and Lori.
Congratulations to the Harvey clan!
Please fill in your e-mail so we can share with you our top stories!