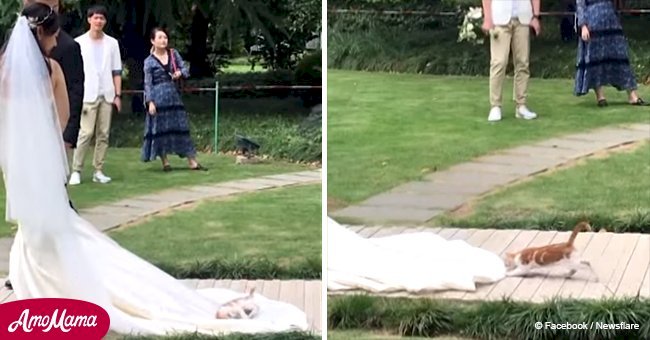 Wedding party approaches the altar when an unexpected guest jumps on the bride's dress
When you think of a wedding crasher, you think of people but this uninvited guest was a cat and he wanted his invite.
Weddings are happy events which we treasure for a lifetime. It takes time and preparation, and nerves are at its highest point. This particular wedding had the bride blushing as an unexpected moment occurred and an uninvited guest accompanied her down the aisle, hitching a free ride to the altar.
Follow us on Twitter @amomama_usa for footage of this humorous event.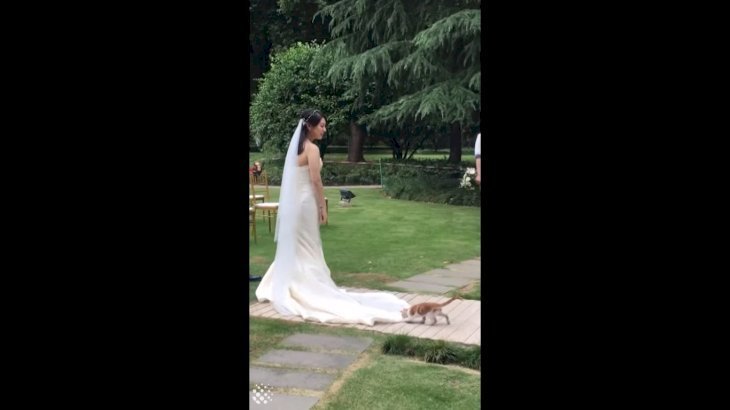 Wedding cat
A couple were at the start of their wedding ceremony in Shanghai, China, on June 9th, and it was a beautiful day for this event which was held outside in the garden area.
The scenery was complimentary and the weather was perfect. The bride looked dreamy in her white wedding dress, surrounded by loved ones. Little did they expect what was to come next.
WATCH THE VIDEO TO SEE THE FUNNY MOMENT ON FACEBOOK
China is known to have many cats and the people love these furry creatures and consider them good luck. So it's perfectly natural to have them roaming freely and nosing around as the curious animals they are.
As the bride and groom prepare to walk down the aisle, a random cat decides to hitch a ride on the train of the bride's wedding dress.
THE WEDDING CRASHER HITCHING A RIDE ON THE BRIDE'S TRAIL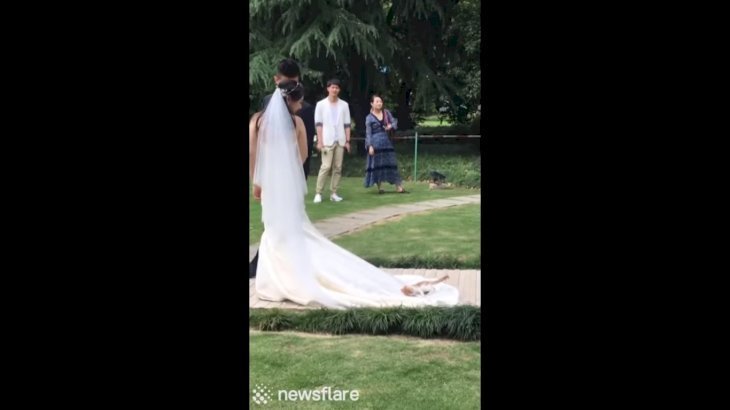 Cat crasher
Apparently, this little wedding crasher was not even known by the family.
As the bride proceeded to walk on, ignoring the little cat, he refused to budge, leaving the bride walking down the aisle dragging the cat along with her on her trail.
This was too funny and they got it all on video.
HAVE A LOOK AT THE LITTLE WEDDING CRASHER ON THE VIDEO BELOW
The little guy is too adorable not to include in the ceremony and went viral online via Facebook.
Eager for a free ride, the little cat stays firmly on the trail. No shame whatsoever and too adorable to disturb him, but of course, the bride cannot continue with the random guest trailing along behind her. Eventually, one of the relatives get up and carry him away so that the wedding can commence.
Here is another story about a brave kitten for those cat loving moments.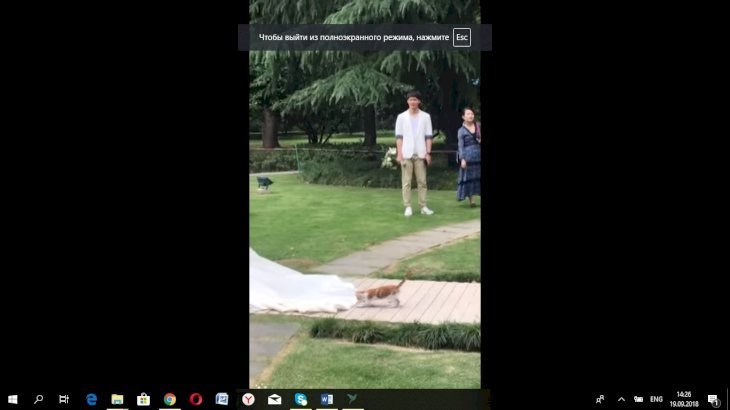 Hitching a ride
So all went well, and the happy wedding couple had an extra bit of luck with the good luck charm cat.
For more hilarious happy endings and animals crashing weddings be sure to click this link to see a stray dog crashes the wedding and the couple decided to adopt him. It was love at first sight.
Please fill in your e-mail so we can share with you our top stories!