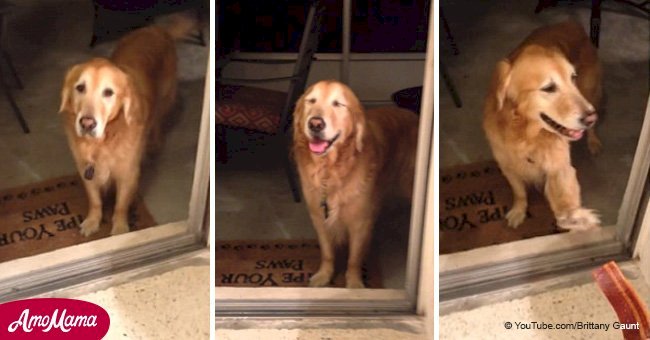 Confused dog refuses to go through an open glass door in a hilarious video
Buddy, the dog, didn't want to pass through the glass door because he was afraid that he was going to bang into it. It took some time for his owner to convince him, but eventually, a bacon treat did the trick.
The golden retriever was on one side of the sliding glass door and his owner, Brittany Gaunt, was on the other side, filming the entire moment, and convincing her dog that he can pass through.
Despite Gaunt's pleas, Buddy refused to get inside the house.
The dog's reaction was hilarious that Gaunt had to post the video on YouTube.
Follow us on Twitter at AmoMama USA for more details and updates.
Explaining the dog's hesitance to pass through, Gaunt wrote on the media-sharing site, "Buddy ran into this glass door once, and he wouldn't come through without me closing the door and opening it in front of him for a good week."
In the video, Gaunt can be heard trying her best to convince Buddy that it was safe to pass through the door.
She kept on insisting that it was open but the dog remained in his position.
At one point, Gaunt even went through the door and demonstrated that no glass could hurt him. Still, Buddy was unconvinced.
Looking confused, Buddy just looked at his owner as she chanted, "Come on, you can do this!"
Soon enough, Gaunt decided to lure the dog with bacon.
Buddy seemed to like the idea as he lifted one paw and cautiously checked if there was anything that could hurt him if he passed through.
It took a few seconds of checking before Buddy finally stepped over and slowly made his way in.
Gaunt was hysterically laughing the entire time as she gave Buddy's reward.
She exclaimed, "Good boy!" while Buddy was busy munching on his bacon treat.
Online users found Buddy very adorable and had been spreading his hilarious video worldwide.
The same thing happened to a cute, little dog that also refused to pass through a glass door.
Although, dog treats wouldn't even convince the pup to walk through.
The owner had to pretend that he was opening the door for the dog for the little pup would get inside.
Please fill in your e-mail so we can share with you our top stories!