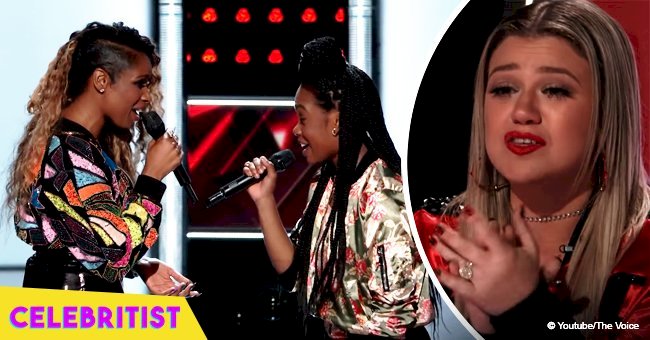 13-year-old leaves coach in tears with powerful duet with Jennifer Hudson after turning 4 chairs

Kennedy Holmes, one of the contestants of "The Voice" season 15, wowed everybody with her blind audition. All four coaches turned their chairs, and Jennifer Hudson even sang with her.
In the video that "The Voice" YouTube channel recently uploaded, Kennedy appeared wearing a black skirt, matching high heels, and a colorful jacket singing a cover of Adele's hit song "Turning Tables."
Even before singing the first verse of the song, coach Kelly Clarkson noticed her impressive vocals. The first person who turned his chair, though, was Adam Levine, who smiled as soon as he made eye contact with Kennedy.
It seemed like that was what the singer needed to fully unleash her voice as her performance became much more powerful and moving after Adam turned his chair.
As soon as Kennedy hit a high note almost effortlessly, the rest of the coaches – Blake Shelton, Jennifer Hudson, and Kelly – hit the red button, too, facing one of the best performers of the night.
Kennedy's family couldn't believe what was happening and they did nothing but cry backstage. All coaches were staring at each other surprised by such a fantastic voice. When she stopped singing, everybody in the theater gave her a well-deserved standing ovation.
While clapping, Blake approached Jennifer and said "I think she could win. I really do." When Kennedy introduced herself and revealed she was just 13 years old, Kelly left her chair, Jennifer's jaw dropped, and Blake jumped in his seat.
He later told Kennedy that she was the best performer who had auditioned in 2018. When Jennifer started talking, Kennedy started crying as if she had just realized who she was talking to.
The teenage then said that the first song she performed was Jennifer's "I Am Changing" and added that her dream was to sing with her, so Jennifer picked up a mic and joined her onstage. Their voices were so beautiful that they made Kelly cry.
Kennedy was just about to say who she picked as her coach when the clip ended, so people will have to wait for that episode of "The Voice" to be released to see who she picked.
Something similar happened during the season 12 of the show when 26-year-old Casi Joy left the coaches speechless with their presentation. She sang "Blue" by LeAnn Rimes and even yodeled like a professional. Casi picked Blake as her coach on that day.
This season of the voice is set to premiere on September 24. Fans cannot wait for it, though.
Please fill in your e-mail so we can share with you our top stories!