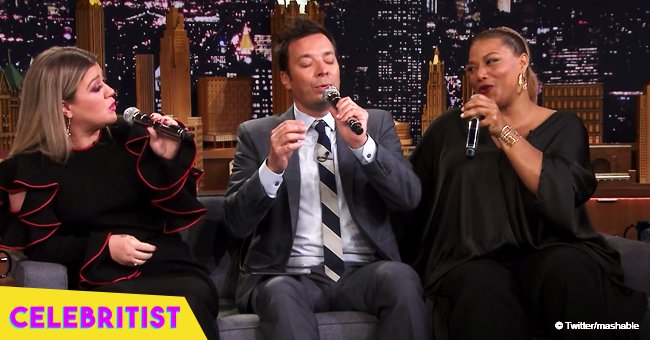 Queen Latifah stuns in all-black-outfit singing 'Earth Angel' with Jimmy Fallon and Kelly Clarkson

Rapper and actress Queen Latifah guested "The Tonight Show Starring Jimmy Fallon" wearing a beautiful outfit to sing next to Kelly Clarkson.
In the video that the show's YouTube channel uploaded to its YouTube account, the actress was talking to Fallon in a loose and shiny black ensemble when the host invited Kelly Clarkson to the set to create a "Doo-Wop" song on an iPad.
Clarkson, who is currently focused on the 15th season of "The Voice," was wearing a black dress with red details that made her look stunning. When the trio sat down together, both women started praising each other, leaving Fallon out of the conversation in a hilarious way.
After a while, the host explained what they were supposed to do, and their performance began.
A VERY ORIGINAL PERFORMANCE
Fallon began recording his voice, then it was Latifah's turn, and then Clarkson's. They did it two times saying different wordless lines and, when they had what they needed, they started singing The Penguin's "Earth Angel."
CLARKSON TALKING ABOUT "THE VOICE"
During the following segment, Clarkson shared some details about her previous time in the show, pointing out that one of her contestants won. She added that Brynn Cartelli, the winner, will go on tour with her next year.
HER UPCOMING TALK SHOW
After that, the singer revealed that she was going to start a talk show "a little different" from what it's on TV at the moment.
"We sing every day on the show, do this fan request thing. On the pilot, I got people to sing with me and do these little skits. It's very musical as well. It would be weird if it wasn't. But if you don't like music, you probably shouldn't watch," added Clarkson.
LATIFAH TALKING ABOUT HER DOCTORATE
The rapper pointed out that she felt wonderful when Rutgers University gave her the honorary doctorate and added that it didn't matter how old someone was, she would always support anyone who would go to school.
QUEEN LATIFAH REFUSED TO TALK ABOUT HER SEXUAL ORIENTATION
The 48-year-old actress, who has never been in a public relationship with a man, has portrayed the role of a gay woman in two occasions, first on the 1996 film "Set It Off," and then on "Bessie."
In an interview she had with the New York Times a couple of years ago, she said that she wouldn't talk about her personal life. "Assume whatever you want. You do it anyway," said Latifah.
Please fill in your e-mail so we can share with you our top stories!