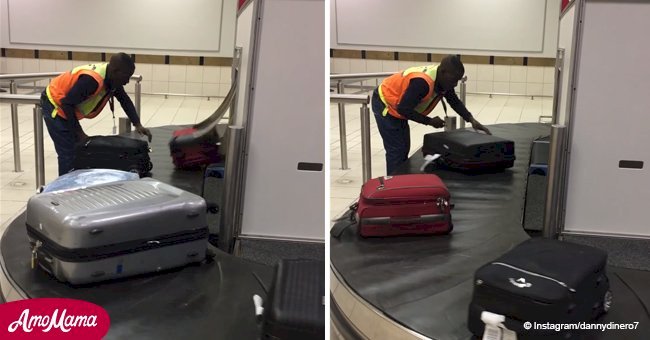 Baggage handler leaves traveler flabbergasted when she sees how he handles the luggage

A man in an airport shows his unusual attitude to his job and surprises watchers.
Janine Brand witnessed something astonishing when she was traveling through Lanseria International Airport in South Africa. She filmed it and posted it on her Facebook page, janine.brand.
Brand saw a baggage handler, Ephraim Sibeko, loading luggage on to a conveyor belt with great care. Sibeko didn't allow the luggage to topple haphazardly onto the baggage claim conveyor belt.
He carefully turned each suitcase and the handle so that it would be easy for each passenger to remove the luggage from the conveyor belt.
"The guys that usually stand there to receive or check the bags either just stand and watch or grab and chuck to make space on the conveyor belt. He turns every single bag so that the handle of the suitcase is facing forward. All you do is grab and go."
Janine Brand, Facebook janine.brand., September 15, 2018.
AN EXEMPLARY ATTITUDE TO HIS WORK
Brand filmed Sibeko as he stood at foot of the belt waiting for each piece of luggage to come out. He was turning each bag to face right-side-up with the handle facing outward, making the weary travelers lives just a little bit after their long flights.
SIBEKO BECAME A MEDIA STAR
Brand's video of Sibeko was shared 23,000 times on Facebook, and the video garnered over 1.2 million views and the clip was even posted on Travel&Leisure's Twitter account.
SIBEKO SAW HER POST AND LEFT A COMMENT
Even more incredible was that Sibeko himself saw the video and commented on Brand's page. The man thanked her and told her that thanks to her post his boss valued his work more than ever.
SIBEKO GARNERED PRAISE FROM EVERYWHERE
Thousands of comments from all over the world have praised SIbeko for his dedication and his impeccable work ethic, a rare commodity in this day and age, and even more so in the hectic world of international airports.
A STRANGE SIGHT OUT AN AIRPLANE WINDOW
A complete contrast is a video captured by a passenger sitting on a plane in Ibiza, waiting to take off for Madrid Spain.
The passenger was looking out of the window and saw a man - a luggage handler - unzip a suitcase on a trolley, and pull something out of it.
A THIEF WAS CAUGHT RED-HANDED ON FILM
As it happened, it was the trolley in which the passenger's luggage was, and he had just filmed the theft of a speaker one of his fellow passengers had bought for her son as a gift.
The passenger alerted the authorities, and the man was stopped and searched and the stolen item was retrieved. The Police found out that it was only the luggage handler's 3rd day on the job, so the vigilant passenger prevented a crime spree.
In a related story, a baggage handler was filmed carelessly tossing and bouncing luggage down a metal chute at the Honolulu Airport.
Please fill in your e-mail so we can share with you our top stories!