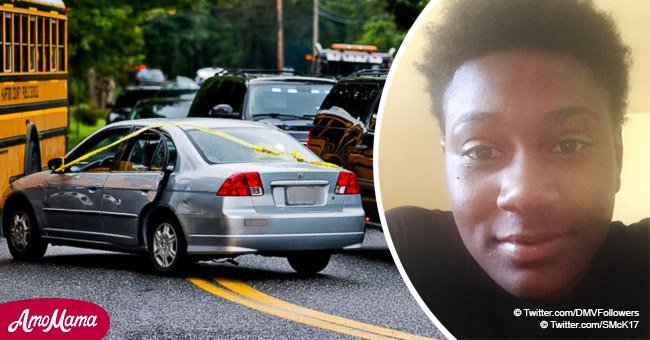 Female shooter kills 3 before fatally shooting herself
On Thursday, Rite Aid workers were left traumatized as a co-worker opened fire. The incident occurred at the drugstore's distribution center in Harford County, Maryland.
A temporary employee, Snochia Moseley, from Baltimore County was identified as the shooter. She killed 4 people, including herself, and injured 3 more.
A source has said Snochia Moseley, 26, was a disgruntled employee at the Rite Aid that was targeted. Sheriff Jeffrey Gahler told reporters that Moseley had shown up for work at her normal time at the facility before the incident occurred.
"She had reported for her workday as usual, and around 9 a.m. the shooting began, striking victims both outside the business and inside the facility."
For more on this story go to our Twitter account @amomama_usa. Police said they didn't know the motive at this time.
Moseley shot 3 people and wounded 3 more before turning the gun on herself. She died at a nearby hospital from a gunshot wound in the head.
The suspect was to have been a security guard at the Rite Aid at some point. Krystal Watson, 33, said her husband, Eric also worked at the facility.
He told her that the suspect had been arguing with someone else near a time clock after a "town hall meeting." Moseley suddenly "went off" according to Watson.
Watson added,
"She didn't have a particular target. She was just shooting."
Moseley used a 9 mm Glock gun and brought several magazines for it. Gahler revealed that the gun she used belonged to her and it was purchased legally.
A Johns Hopkins Bayview Medical Center spokeswoman, Kristin Mears, said they received 4 patients with "priority one gunshot wounds." At a news conference, Ray Fang, the hospital's trauma medical director, said 2 of the victims were stable and doing well.
A Rite Aid spokeswoman, Susan Henderson, said around 1,000 employees worked at the distribution center. The center is where products are received and processed for delivery.
This was said to be the third high-profile shooting in the US in two days. In this incident, Gahler said deputies were dispatched at 9:09 a.m. ET and were on the scene within 5 minutes.
On Wednesday, a shooting occurred at an office complex in Middleton, Wisconsin. Three people were left injured in that incident.
On the same day, a gunman wounded 4 people at the Masontown Borough Municipal Center in Pennsylvania. Police killed both suspects from those incidents.
In April, Adam Lankford, a criminal justice professor at the University of Alabama, revealed that in general, there were fewer female shooters when it came to firearm homicides. FBI data from 2016 showed that 7.6% of the offenders who committed murder were female.
Lankford said research showed that males committed more homicides than females, "regardless of the subtype of homicide."
Please fill in your e-mail so we can share with you our top stories!