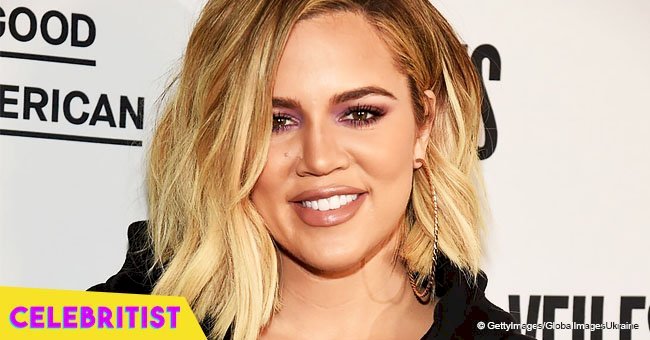 Khloé Kardashian shows off post-baby body after amazing weight loss

Since giving birth to her daughter True Thompson in April, reality star Khloe Kardashian has been open about her efforts towards losing the pregnancy weight. The mother-of-one recently shared photos and videos of her amazing post-baby body and revealed the secret to her transformation.
Khloe was pictured in pink top-and-leggings workout gear that flaunted her firm abs and toned physique. She stood before a bathroom mirror in a couple of selfies and videos. In the photo, Khloe holds on to a water bottle which, as it turns out, contains the secret to her slimmer curves.
She informed her followers on Instagram:
"Progress update! Enjoying my meal replacement shake program from @flattummyco and I'm actually feeling sooo good right now, can you tell? These meal replacement shakes are so effective and the results I'm seeing and feeling are amazing - I'm super excited for the next few weeks."
Only three months after giving birth to True, Khloe shocked fans when she announced she'd already lost 33 pounds. The fitness enthusiast is said to have taken six weeks off exercising after the birth of her daughter. Then, it was back to her routine.
"After I had True, I didn't put any pressure on myself to lose the baby weight. I just wanted to get back to my regular routine from before I got pregnant, which was working out five to six times a week," Khloe wrote on her app.
But workouts and meal replacement shakes aren't the only things that have helped the first-time mom achieve such a trim body. Khloe also credits her food choices for the overhaul. "I'm currently on a low-carb diet," she said.
She disclosed:
"It has lots of protein, so I'm able to go all out at the gym, but the best part is that I'm never hungry because I'm always eating!"
Since 2016 when she lost 40 pounds to unveil her "revenge body" after breaking up with Lamar Odom, Khloe has been unstoppable in her commitment to staying fit. She continues to prove that nothing, not even her precious baby, can stop her from keeping a healthy weight.
"Exercise is something I've always used to maintain my sanity and relieve stress," she said. "And now that I have a baby, I still want to keep something that's my time, my space, something that I'm doing for myself."
Khloe, 34, and her partner Tristan Thompson welcomed their daughter on April 12.
Please fill in your e-mail so we can share with you our top stories!