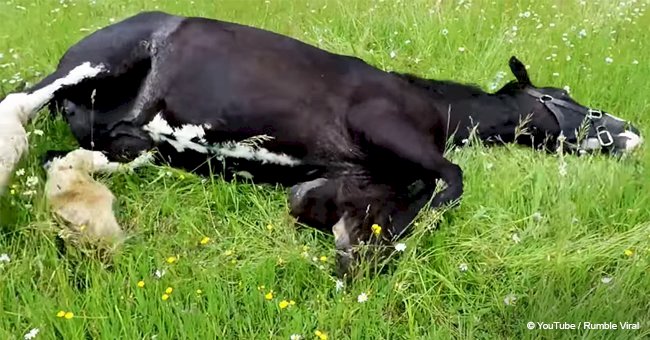 Clydesdale has an emotional response to running free in a meadow (video)

A video showing one Clydesdale horse playing quite animatedly in a meadow has gone viral on YouTube.
The black beauty is a part of a family at "The Mane Intent" in Indian River, Ontario. The aim of the place is to heal humans or to just bring them joy by interacting with the horses.
But Belle, the star of the heartwarming video, is enjoying her own therapy in the fresh air and green grass. The clip is found below.
Follow us on Twitter for more @amomama_usa.
According to the Mind Circle, Belle is a specialist in assisting people who have endured non-physical trauma to overcome their emotional pain.
She further brings them toward a higher level of self-awareness through their interaction with her.
On a Sunday in June 2017, Belle was sent to roam in the meadow with the rest of the herd.
She bounded through the greenery straight up a hill. Then grazed under the hot sun.
When Belle took to rolling around in the grass, her caretakers had to capture the wondrous sight on camera.
The contented snorts and childlike motions of the large horse with massive hooves are close to being magical.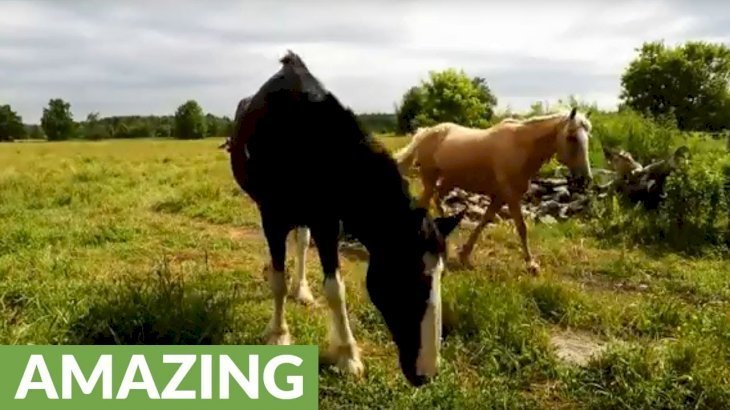 Source: YouTube
Such a huge creature looked like an extremely adorable pet.
Of course, Clydesdale horses are well-known for being the face of Budweiser beers.
While we're sure that Belle is living her best life in the natural environment, the more famous Budweiser Clydesdales receive a different type of treatment.
In between their appearances to the public, the horses travel in trailers fitted with air-cushioned suspensions and deep rubber flooring.
They wear handcrafted harnesses and collars and consume all their necessary whole grains, minerals, vitamins, and 50 to 60 pounds of hay a day.
Back in July 2016, one Ster Friesian Horse named Koning took it on his own to put on a show for a herd of cattle that had crowded together in front his farm.
The horse approached the timid cattle and then trotted in a circle. In the video, it appeared that the cows appreciated the movement and that's why Koning continued.
He galloped about for a bit more and then again came close to the barrier where the cows stood. They moved back but not too much. They seemed to be enjoying the show by the majestic creature.
Please fill in your e-mail so we can share with you our top stories!