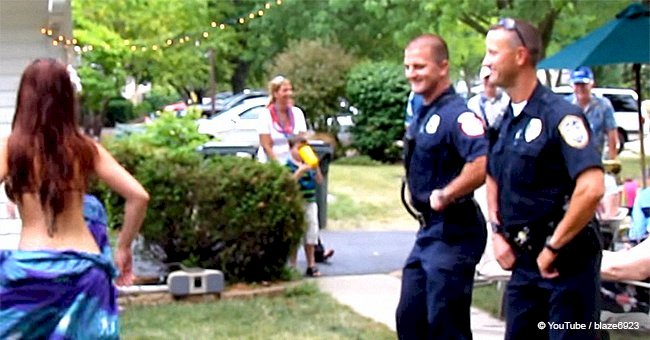 Police officers crash hula party for hysterical dance-off (video)

When a complaint becomes a surprising enjoyment.
Police officers were surprised at the turn out of a dispatch call.
Read more on our Twitter account @amomama_usa.
POLICE WERE CALLED
Two officers were dispatched to a residence to investigate a noise complaint.
They arrived at the residence and found the situation unusual.
WHAT THE POLICE FOUND
A large family was having a celebration.
Patio furniture places all over the front yard, but what caught their eyes was something else.
Two beautiful women dancing right in front of them.
The family had planned the party in advance ensuring the dancers would be there.
DO THE HULA
The women wore traditional skirts with flowers in their hair.
Encouraging the officers to have fun the family watched on as they tried the hula dance.
Sometimes the dancing is accidental, as seen when a brown bear with an itch scratches himself in such a way appearing to be dancing.
The bear filmed in British Columbia, Canada stands up on its hind legs, scratching his back against a tree. To see this unfold follow Hilarious moment a brown bear scratching his back looks like he's dancing.
The officers attempted the dance, mimicking the hula dancers but to no avail.
DANCE OF A DIFFERENT TUNE
Police officers in Norfolk, VA. was also dancing, but to a funky song and another reason.
Filmed lip-syncing to Bruno Mars's 'Uptown Funk' various police officers danced their way down the corridor steps moving to the beat of the music.
Can find the reason for their video and dancing by reading Police Officers Lip-Sync as Part of Public Relations Dance.
Source: Norfolk Police Department
Please fill in your e-mail so we can share with you our top stories!