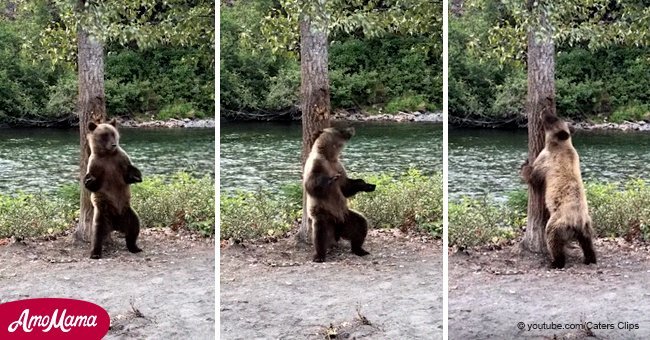 Hilarious moment a brown bear scratching his back looks like he's dancing
A brown bear became a big hit online when it was captured trying to scratch its back against a tree, but ended up looking as if it was dancing.
Supposedly, the bear had an itch that was unbearable, and as it became desperate, the bear attempted to remove the itchy feeling by rubbing its back up and down the tree.
Andy Williams captured the video that showed the bear standing on its hind legs, appearing as if it was dancing the famous "twerking" move.
Social media users couldn't get enough of the adorable bear, and it wasn't long until the brown animal became viral online.
Follow us on Twitter at AmoMama USA for more viral stories and updates.
At one point in the video, the bear fell on its paws and backed up against the tree to drag its rear end to remove the pesky itch.
Williams, 58, a photographer from New York, saw the bear on his camera while visiting British Columbia, Canada.
He was a few steps away from the animal when he started taking pictures of it.
Talking about the experience, Williams said, "I'd had an incredibly fun [sic] spending a week with the bears, in a place where the bears hold citizenship. He walked up towards us, and stood up at the tree and began scratching himself! It was thrilling and amusing."
According to the Daily Mail, seeing bears in British Columbia is a common thing. In fact, grizzly bears, black bears, and Kermode or "Spirit" bears are considered one with the local citizens.
In addition to bears making it big online, there is a video of an adorable bear enjoying a morning dip in an inflatable pool.
After going viral, people from all over the world chipped in to build a real swimming pool for the bear named Bruiser.
The bear can be found at the Single Vision Wildlife Sanctuary in Florida.
Supposedly, Bruiser loves to swim, much like most grizzly bears.
The owner of the sanctuary, Carl Bovard, decided to do something for the bear and raised funds to come up with enough money to build a big pool.
It wasn't long until money was raised and Bruiser was able to enjoy unlimited access to its very own pool.
Please fill in your e-mail so we can share with you our top stories!