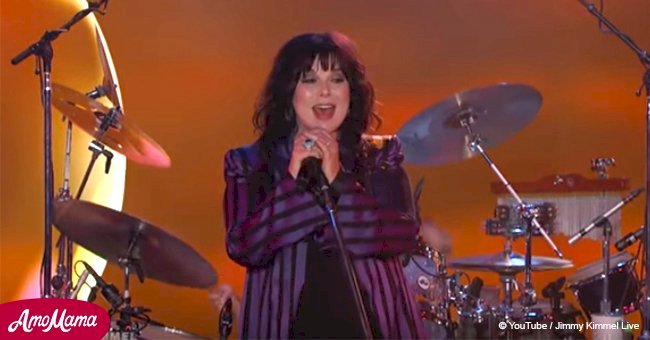 'Heart' song writer Ann Wilson gives an incredible performance while visiting 'Jimmy Kimmel Live'
Wilson was set to perform on the "Jimmy Kimmel Live" show more than a year ago, but her segment was postponed due to the passing of a dear friend.
The acclaimed singer and songwriter, Ann Wilson, wowed the crowd with her performance of "You Don't Own Me" earlier this week.
She took a year off for personal reflection and has now returned to the spotlight with a new album. Read more on our Twitter account, @amomama_usa.
"I got serious about making a record after Chris Cornell passed. It was just one too many for me to not do anything."
We had to say goodbye to many great singers over these past few years, such as David Bowie, Tom Petty, George Michael, and Leonard Cohen."
Wilson explained that they were all performers whom she greatly admired, and she expressed her loss through her solo debut album, "Immortal."
Wilson also said she connected most with Cohen's song, "A Thousand Kisses Deep" because it reflects "an epiphany" and "it's kind of existential."
She added the Cohen understood that the "richness and lushness of romantic love is behind him" and that getting wrecked by it is inevitable.
Her album includes songs from all the greats in the industry, such as Amy Winehouse, Petty, and her good friend, Chris Cornell.
While she was planning to also include a song in tribute to Linkin Park's Chester Bennington, Wilson said she couldn't "authentically connect" to any of their songs.
She wanted to include a song for Cranberry's Dolores O'Riordan too, and Prince and Glen Campbell, but faced the same dilemma. Wilson explained:
"There were a lot of them that just didn't work for me. I guess I was going for kind of a more poetic thing."
Fans of Kimmel thought her performance on his show was just as poetic and rushed to the comment section to share their thoughts.
She was described as "one of the greatest rock voices of all time," and a "true legend," among other compliments.
In another interview with Rolling Stone earlier this year, Wilson opened up about the abuse singers experiences in the seventies, decades before the Me Too movement.
She also talked about the pressure on women to be present themselves in a sexual way because doing the opposite could cost them work.
She said: "[They are] scared to look anything but super-excellent and as they assume the other gender wants them to look." It is that fear that sexual predators are attracted too.
The Me Too Movement began shortly after media mogul Harvey Weinstein was investigated for sexual misconduct back in 2017.
He
turned himself
in
to the authorities in May of this year after dozens of women came forward to testify against him. Read the full account
here
.
Please fill in your e-mail so we can share with you our top stories!