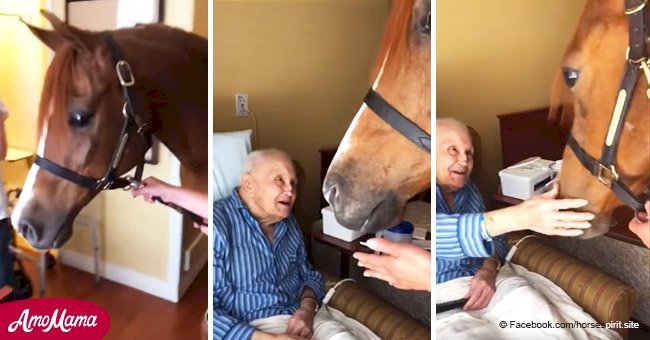 Elderly man can't leave his bed so they bring a therapy horse to him

An 87-year-old man had one dying wish: to see a horse one final time. Unfortunately, he was too sick to leave the hospice.
Just days before he passed away, Patrick Saunders's family and the hospice staff made his dream come true. Read more on our Twitter, @amomama_usa.
If Saunders couldn't go to the horse, then the horse would go to Saunders. And he didn't even have to leave his room. His family said:
"He was doing very, very poorly at that stage. They even gave him some treats to feed to the horse."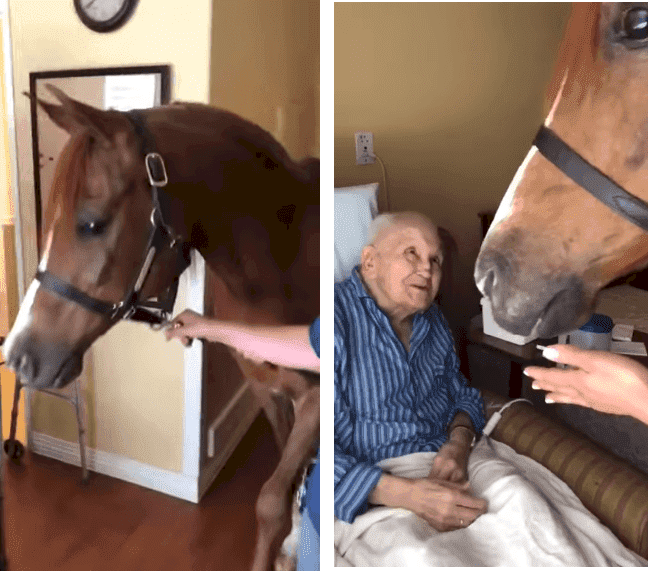 Source: Facebook/Horse Spirit
Jayne Hayes, his daughter, explained that he had loved horses all his life and spent a fair amount of his adult life caring for them.
As he was looking back on his life, all those memories came pouring back and he talked about it at great length.
It was those conversations that inspired Hayes. She contacted the equine rescue next door and they "agreed to bring a horse over for a visit."
In a nice twist of fate, the horse happened to be named Victor, which was her grandfather's name. Saunders was ecstatic when they brought the horse in.
He kept saying what a beautiful creature it was, and they gave him treats to feed the horse.
As for the horse, he seemed at ease trotting down the hospice's hallway and into Saunders's room, where the 87-year-old was sitting in a chair.
Saunders passed away four days later, and Hayes is grateful to the staff and the equine center for making his last days memorable.
Equine therapy, or Equine Assisted Therapy, is not a new concept. Studies have shown that patients who interact with horses show remarkable improvements in stress tolerance and emotional awareness.
Horses are patient by nature, non-judgemental, and are "highly effective at mirroring attitudes and behaviors of the humans" with whom they connect," the study found.
This theory was put to the test at a nursing home in Canberra, Australia, where a horse named Maverick was introduced to patients with Alzheimer's and dementia.
One of the nurses said: "He's a people-oriented horse; people are his greatest love. It's obvious he loves having people pat him and he likes to cheer them up."
And it's not only the elderly who are fascinated with horses. Back in August, Robin Morris from Oklahoma took his horse shopping – much to the delight of the other customers.
He asked the store employee if he, as a senior man, may bring his senior horse into the store to buy senior horse feed.
The manager said: "Technically our sign [...] does say all pets welcome," as long as they are on a leash, and a horse's bridle is a leash.
Both the horse and his owner then went about their business while customers and employees looked on in amazement. Read the full account here.
Please fill in your e-mail so we can share with you our top stories!