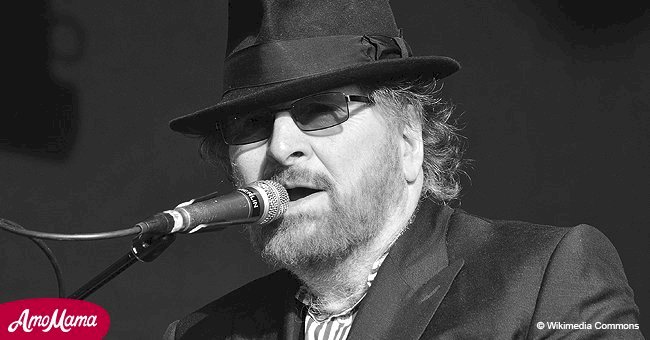 Singer Chas Hodges dead at the age of 74

Musician Chas Hodges, from Chas and Dave, has passed away at the age of 74 following a battle with oesophageal cancer.
The artist drew his last breath this Saturday morning, September 22, 2018, after suffering an organ failure in his sleep.
The news of his death was shared on the band's official Twitter account, where thousands of fans and followers paid their respects to Hodges.
Follow us on our Twitter account @amomama_usa to learn more.
HIS ROCKING DAYS
The band was famous for their unique style, which was commonly labeled as 'rockney,' a mix of 'pub singalong, music-hall humor, boogie-woogie piano and pre-Beatles rock n' roll.'
The group started as a duo in the 70s and became famous for hits such as "Ain't No Pleasing You" and "Rabbit." The pair stepped on stage for the last time last year at the Barclaycard Presents British Summer Time Festival.
THE DIAGNOSIS
Hodges was diagnosed with cancer at the age of 73 after struggling to gulp down a simple glass of water. Doctors told him that the disease was caught early and that he had good chances of beating it.
He received treatment for a small tumor lodged in his chest, as well as some chemotherapy sessions. During an interview with the Mirror, Hodges revealed that he was ordered to do 20 minutes of light exercise every day.
HE WILL BE MISSED
Unfortunately, despite following the doctor's recommendations, his health kept decaying. Hodges, who played in several bands since he was 13 and was good friends with Paul McCartney, is survived by his wife, Joan, a former Playboy bunny and actress.
There are many terrible diseases in the world, but cancer is one of the worst ones and is very painful, not only for those suffering from it but also for their loved ones.
UNCONDITIONAL LOVE
Recently, a 19-year-old woman named Nina Marino passed away just days after marrying her best friend Joey Williams. They became a couple in 2017 but they lived all their lives ten minutes away from each other.
Marino, a terminal cancer patient, suffered from undifferentiated sarcoma and doctors didn't know how much time she had left.
THE WEDDING
Knowing this, the couple chose a date to wed but a day before the ceremony, doctors at the St. Joseph's Children Hospital, in Tampa, Florida, told them that Marino had only a few hours to live.
They didn't waste any time and exchanged vows at the hospital and it was a very emotional moment to see the two best friends finally tying the knot.
A HEARTBREAKING ENDING
Marino was so weak that she didn't have the strength to get up, so, wearing her wedding dress and holding a bouquet, she kissed Williams in front of their family and friends, as well as hospital staff.
The 19-year-old surpassed the doctor's expectations and lived for three more days before finally drawing her last breath with her husband by her side.
Please fill in your e-mail so we can share with you our top stories!