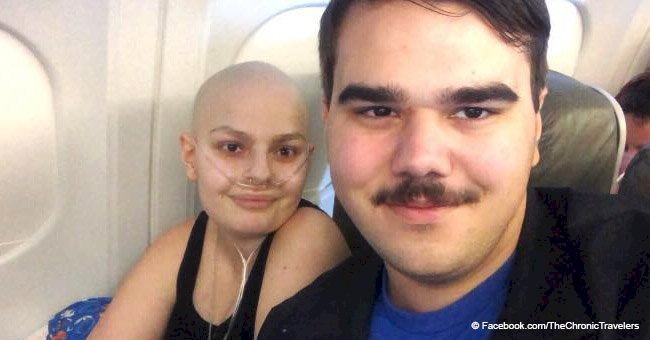 Bride, 19, dies just days after her wedding in a hospital bed next to her best friend
These two childhood friends from Clearwater, Florida, decided to marry in a hurry when doctors told them that the bride, who had terminal cancer, that she had not much time left.
19-year-old Nina Marino and 21-year-old Joey Williams expected something different when they got engaged, but Marino's health condition forced them to rush things and be part of a heartbreaking story of unconditional love.
As People reported, Marino and Williams, whose friendship had started at the young age of 8 and lived all their lives ten minutes away from each other, became a couple in June 2017, one more after she was diagnosed with cancer.
Marino suffered from undifferentiated sarcoma, which spread to her lungs. She also had to undergo surgery to get a tumor removed from her head and was administered seven rounds of chemotherapy.
But as Williams told the news outlet, doctors never told the family how long she was expected to live, as it started to become evident that Marino was not getting better. Until September 3. Read more on our Twitter account @amomama_usa
Last-minute wedding
The couple heard the devastating news that doctors estimated that Marino had hours to live one day before the date they had originally chosen for their wedding, which they expected to celebrate at the hospital chapel.
The doctors at the St. Joseph's Children Hospital in Tampa, Florida, knew about this, so they broke the painful news to them in time for the two to act.
"The doctor encouraged us that, if we wanted to be married, we should do it that day. It was a lot all at once. Nina just said, 'Okay, let's do it.'" Williams recalled.
Nina's condition had gotten so bad that she didn't have the strength required to walk to the hospital's chapel, and she had to use a respirator at all times, so the ceremony had to be officiated at the teenager's hospital room.
The medical center's staff and their relatives used anything at hand to decorate the room for the special occasion. Merely hours after having the heartbreaking talk with he doctors, Marino was wearing her wedding dress at her hospital bed.
She also wore a flower headband and carried a bouquet in her hands. About 30 family members, along with close friends and workers from the hospital attended the touching ceremony.
A life-changing experience
Photographer Nil Patel was there to capture the mixed emotions that surfaced in the last-minute wedding, and he shared the images and the story with Love What Matters.
"I was an absolute emotional wreck on the inside, while trying to act calm and professional on the outside. The joy and strength everyone showed was something very profound to me. The entire family showed a type of strength for Nina I've never seen before in my life."
-Nil Patel, People, September 13, 2018.
Even though the doctors thought Marino was not going to make it through the night, she lived for three more days after marrying her best friend and the love of her life, passing away on September 6.
"It wasn't the wedding of our dreams, but it was the wedding that made our dreams come true. It was really important to her. It was one of the things that she absolutely wanted to do, one of the things I wanted to do," Williams said.
Planning a wedding and a funeral only days apart
At the other side of the Atlantic, in Bristol, England, 32-year-old Michelle White and her 41-year- old fiancé Scott Plumley had to go through something similar when he was diagnosed with Stage 4 esophagus cancer that spread to his liver.
"We were already engaged - we got engaged on the anniversary of us getting together - and we were planning to get married, saving up for it," White told the Bristol Post.
The doctors told them that there was nothing they could do, so the couple didn't waste any time and decided to go on with the wedding, which they had to plan in a rush, as Plumley only had days to live.
13 hours after Scott, using a wheelchair and surrounded by family and friends from across the country that showed up in support, married White, he sadly passed away. 10 days after becoming his wife, White was arranging Plumley's funeral.
A father and a daughter brought some magic to a hospital room
2-year-old Phoenix Thompson was recently diagnosed with an aggressive form of blood cancer with 20 to 45% possibilities of survival, so her father, Brett, tried hard to think of something to cheer up his hospitalized little girl.
The man put on his best suit and tie and showed up at the hospital room to ask the toddler on a father/daughter dance to the sound of "My Little Girl," by Tim McGraw. A nurse caught the special moment on video.
Please fill in your e-mail so we can share with you our top stories!