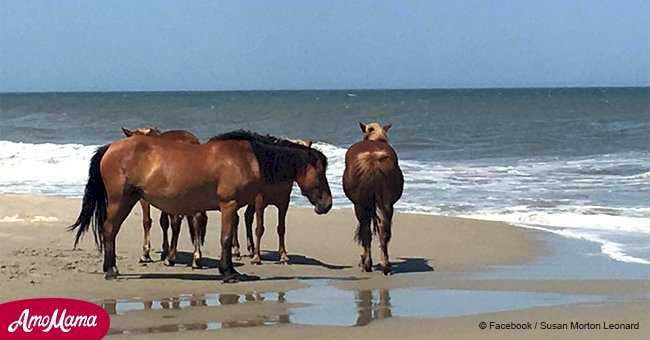 North Carolina's famous wild horses survived hurricane at flood site
Hurricane Florence has had devastating effects but these brave wild horses used their natural instincts to stay alive.
The Corolla Wild Horses roaming Northern Carolina's Outer Banks have emerged unscathed after the deadly hurricane hit and what a relief indeed.
Follow us on Twitter @amomama_usa for more details on this thrilling report.
Both Cape Hatteras National Seashore and Corolla Wild Horse Fund confirmed that their equestrian populations are unharmed and safe after the natural disaster.
The horses were said to have found higher ground and grouped together in safety from the lashing wind and rain. The island natives also kept a close eye on them according to Meg Puckett, manager of the Corolla Wild Horse Fund.
"So far it's been business as usual for them, out grazing in all the normal spots," Puckett said. "The horses are back out at all their usual haunts."
The ponies were grazing happily alongside and seen as horses are highly sensitive to changes in weather, their natural instincts kick in, forcing them to act on it and in doing so lead them to higher ground and safety.
"We are happy to announce that all of the Ocracoke ponies are safe and that the pony pen did not sustain any damage from Hurricane Florence," the national park wrote.
"Naturally, they are meant to be outside and they have high ground and they have thick places to hide," Stuska said. "Don't worry about them. They've survived for hundreds of years, and we expect that they'll be just fine."
Animals all have a natural sense to read the weather changes and when a storm is coming, they know what to do and where to find the best shelter. They are amazing creatures and everyone is relieved that these horses had found safer grounds and avoided this natural disaster.
We suffer natural disasters and never have time to fully prepare for them. Here are tips from the experts to prepare you beforehand so that you're not caught with your pants down when a hurricane comes knocking. Be prepared and save your life and avoid getting caught in the next hurricane.
Please fill in your e-mail so we can share with you our top stories!