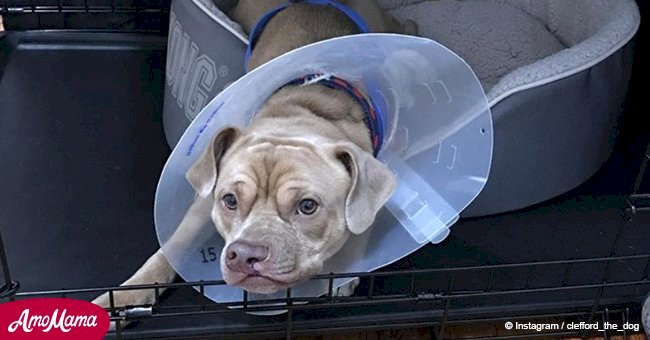 Dog spent months in a shelter without getting a new family because of his nose

The pitbull Clefford, born with a cleft palate faced challenges.
A set of unfortunate circumstances left his future unknown.
CLEFFORD
Read more on our Twitter account @amomama_usa.
Will Stoltenberg, a volunteer at the rescue center had this to say:
"Clefford is a very playful and loving dog and loves nothing more than to grab a toy and play with his favorite people. He will also paw at you when he's sleepy to let you know that he needs a blanket to snuggle in. Clefford may look a little different than most dogs, but that hasn't slowed him down in the least. He's just a goofy, loving dog who wants nothing more than to be around the people he loves at all times"
THE BEST FOR CLEFFORD
His family became homeless, and no longer have the means to look after him.
Since he was born with a cleft palate he needed treatment and care which they could not afford.
The relationship between owner and dog can be entertaining, in the following article a dog learned a hilarious trick to get his owner to stay home from work. Dog learned hilarious trick so dad would stay home from work
The decision was made to take him to a shelter or rescue that could give him the treatment he needed.
They took Clefford to Angell Animal Medical Center in the Boston area.
Through MSPCA-Angell he was soon put up for adoption.
Clefford needs special food he won't hurt himself with eating.
He became a staff and volunteer favorite, remaining sweet throughout his stay at the rescue, which is how he found his new dad.
HIS NEW DAD
He has been volunteering at the rescue for about a year when Clefford was brought in.
When they met Will Stoltenberg fell in love with Clefford.
He spent as much time with him as he could realizing Clefford was meant to be his dog.
Stoltenberg said:
"As I would go around checking on the dogs, I always found myself coming back to his kennel to give him scratches and tell him what a good boy he was. He has an infectious smile and always seemed happy to see me when I came by. In the end, I just had to adopt him. I wanted to give him the life he deserved and months in a kennel was certainly not it."
TAKING CLEFFORD HOME
When they got home he realized his noisy life was scary to Clefford, he was scared of almost everything.
Stoltenberg was patient with him and now one year later Clefford loves going for walks, greeting passersby.
Even overcoming some of his physical challenges he transformed into a different dog.
TREATMENT FOR CLEFFORD
His cleft palate shrunk to a little hole in the roof of his mouth, thanks to four surgeries followed by loving care and rest from Stoltenberg.
Still looking different from most dogs due to his twisted nose and his teeth always showing people sometimes get nervous.
You soon realize after spending time with him that he is the sweetest, friendliest dog around.
Another story emerged when a tiny dog was seen being tossed out a car.
Alesha Brandt's daughter saw this as she was getting off the bus, she immediately called her mother.
See the story unfold Little One-Eyed Dog Who Was Thrown Out Of Car Won't Let Anything Slow Her Down.
Source: Alesha Brandt
Alesha Brandt's daughter was getting off the bus eight years ago when she saw someone in a car open their door — and toss a dog out into the road. Brandt's daughter rushed over to the tiny dog, saw what kind of state she was in and immediately called her mom.
Knowing they had to help, the mother-daughter pair rushed the little dog to the vet. She was incredibly skinny and deaf in one ear, and had an eye injury so severe she ended up needing to have her eye removed. She was so small and sickly that, at first, it didn't seem like she was going to make it.
Please fill in your e-mail so we can share with you our top stories!