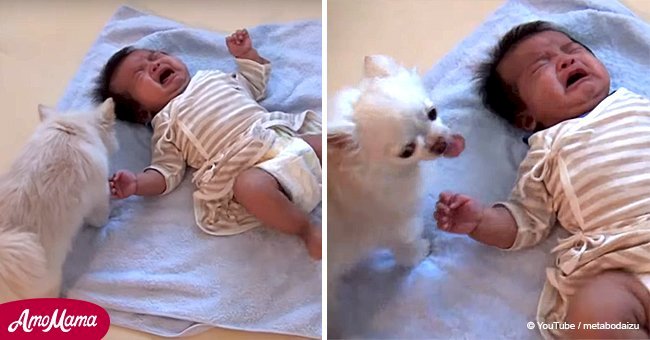 Sweet dog brings a cookie to calm a crying baby and the video goes viral with 17 million views

The little Chihuahua shows visible concern over a baby.
The baby was laying on a blanket on the carpet on his back, crying.
The little Chihuahua can be seen running up to the crying baby offering him a biscuit.
Proceeding to lay close paying attention to the baby. Having the appearance of wanting to comfort him.
Read more on our Twitter account @amomama_usa.
HOW IT UNFOLDS
As the biscuit drops next to the baby someone is seen in the video picking it up and giving back to the dog.
The person does this a few times because every time the Chihuahua takes the biscuit, he tries to give it back to the baby.
Offering the crying baby solace of sorts, trying to make him feel better he stays close using the only what he associates with feeling better, eating a biscuit.
Their little dog stays close to the baby edging forward every time the baby cries louder, clearly affected by the baby crying.
Babies can do adorable things at times, at Babies laughing at the simplest things in life were caught on camera there are various accounts of funny things babies do. One, in particular, features a little girl hugging a book filled with pictures of animals. See all the pictures and videos.
WHEN OUR PETS GET INNOVATIVE
On a hot day, a dog decides to bring the coolness of the sprinkler inside the house, dragging it through the doggie door all the way to one of the rooms in the house while it was sprinkling.
The dog's owner came in and saw the water all over the floor and furniture, to see the pictures and video's she posted and more about what she did visit Dog brings sprinkler inside house to cool off during hot weather.
Please fill in your e-mail so we can share with you our top stories!