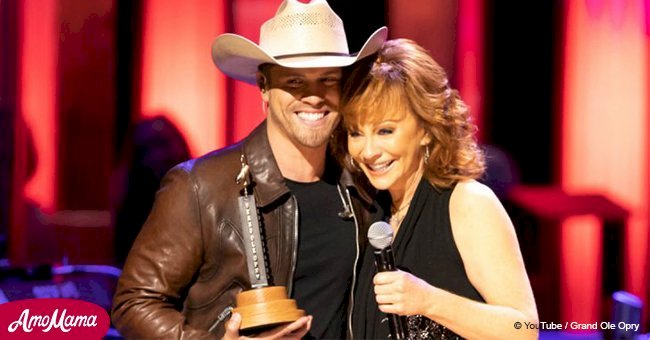 Amazing moment Dustin Lynch was inducted into the Grand Ole Opry by Reba McEntire (video)

Dustin Lynch, the country music singer whose five singles have reached the number 1 position on Country Airplay, officially became a member of the Grand Ole Opry.
One of the dreams of most country musicians is to be inducted into the hallowed family of the Opry. Thankfully, Lynch became one of those members on September 18. However, it was not the only reason why his night was memorable.
Reba McEntire, who has been Lynch's lifelong crush, surprised the "Where It's At" singer by joining him on stage to welcome him to the selected Opry family.
As Country Music Family reported, Lynch revealed his love for McEntire in an interview several years ago, and his love for her has kept growing ever since.
"Well, she is my crush, and she knows that. That's what's awesome. I have a Reba cup onstage every single night. But she is my crush. She's always been a dream girl of mine since I was a little bitty guy," the singer added.
A REAL FANBOY
Lynch's love was evident as he could stop hugging his idol. He shed a couple of tears when she got onstage with him. Even McEntire said, "You've got me crying, Dustin, dang it."

Source: YouTube/Grand Ole Opry
While onstage, McEntire recalled her Opry debut 41 years and one day before Lynch became the newest member of the selected group. She added that she was seven years old the first time she went to the Opry.
Once McEntire left the stage, Lynch told the crowd that he was a "crybaby" and that he got that feature from his father. He added that he couldn't believe what had happened.
A FINAL SURPRISE
During his speech, McEntire joined him once again holding a box of tissues. The man took one, cleared his tears, and stuck it in his pocket.
Read more on our Twitter account, @amomama_usa.
"This is one of those dreams that you dream of, and you honestly don't think will ever happen," finished Lynch.
"AMAZING GRACE" BY MCENTIRE
McEntire recently sat down next to Christian and gospel singers Jason Crabb. During their conversation, they talked about her gospel album which won the Dove Award.
Soon after that, they started singing "Amazing Grace" together while Crabb was playing the guitar. Their rendition was beautiful and, at the moment, the video has more than 104,000 views.
Please fill in your e-mail so we can share with you our top stories!