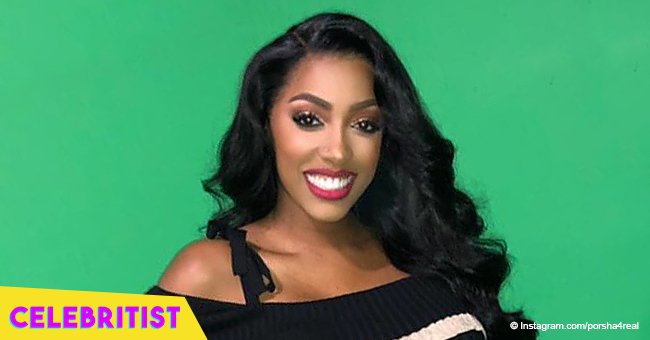 Porsha Williams may have accidentally revealed the gender of her baby in new picture

Shortly after announcing her pregnancy, Porsha Williams seems to have hinted at the gender of her baby.
While fans are still taking in the fresh news of Porsha Williams expecting a child with her boyfriend, Dennis McKinley, she dropped another bomb two days later clueing in on the sex of their child.
On Wednesday, Porsha shared the good news that she and her boyfriend were having a baby. She told People she was both excited and scared.
"When I found out I was pregnant, I was excited [but] I had mixed feelings. The other feeling that I had beside excitement was fear."
The 37-year-old explained her fear stemmed from a miscarriage she had six years ago. She had fibroids that led to a myomectomy. But she says she's learning to overcome that fear, specially with Dennis by her side who's as excited as her. Both Porsha and Dennis will be first-time parents at the birth of their child.
"The thought of me getting that blessing after praying for it for so long and getting that blessing with someone who is just as excited as me — it's Dennis' first child, just like me — and it's something we've both always wanted … It's like a dream come true."
Probably due to her abounding excitement, Porsha may have let it slip that she's having a girl. In an Instagram post of Ming Lee who shared a photo of four baby girls sleeping in a hair salon, Porsha commented on how she couldn't wait until her own joins them.
"Omg I wish my baby was out !! I would have her right there getting done up lol."
Followers immediately asked if she was having a girl but she opted to stay mum.
Porsha and Dennis have been dating for almost a year though it took a while for the reality star to reveal his identity, only referring to him as DM in her earlier posts. In July, they sparked engagement rumors when they were spotted shopping at a jewelry store. When asked if they were shopping for an engagement ring, she just coyly replied,
"We were just looking at everything."
With Dennis' identity now out in the open, details about the man have been emerging. He's reportedly an entrepreneur though it's unclear what kind of business he's into. He has known Porsha for years yet their romance was only confirmed by the "Real Housewives of Atlanta" star in June. Dennis is also set to join her in the 11thseason of the show fueling suspicions of a wedding in the works.
Please fill in your e-mail so we can share with you our top stories!