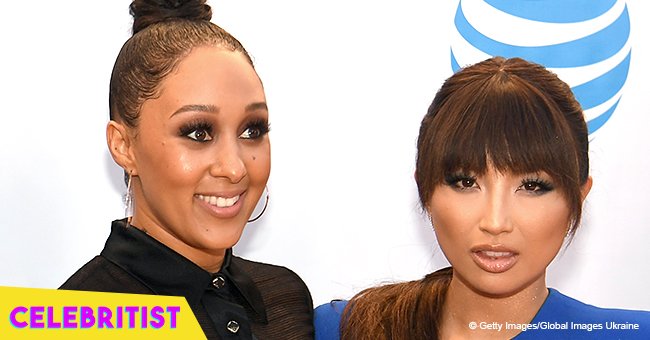 Tamera Mowry and Jeannie Mai have a very tense exchange on 'The Real'

Tamera Mowry and Jeannie Mai heat up a recent episode of "The Real" as they argue over two famous television characters and their sexuality.
Tamera Mowry and Jeannie Mai just gave their audience a taste of how real they can get. During a recent episode of "The Real," the two co-hosts got into a heated exchange over their differing opinions concerning an issue raised about "Sesame Street" characters Bert and Ernie.
THE ISSUE IN QUESTION
It began when they delved on the issue of the two popular characters being deemed not just friends but a loving gay couple, an idea brought up by a former writer of the children's show. Sesame Workshop has since denied this and insisted the roommates were just best friends.
TAMERA'S POINT OF VIEW
In a series of exchanges, Tamera and Jeannie argued over whether the sexuality of the puppets mattered to the children watching them. In Tamera's point of view, she said she didn't really think about the puppets' sexuality while watching them as a kid herself and her only concern today as a mother is what the show is teaching her children.
"I know that when I was watching "Sesame Street" as a kid, it was one of my favorite shows. I wasn't really thinking about the genitalia and what they were doing sexually as a kid. They're puppets."
"But as a parent, I'm like, what are you teaching my child? Are you teaching my children how to love one another?" she continued. "Are you teaching my children how to be friendly and create amazing friendships? That's what really matters. I don't care if they're brown, yellow, orange — whatever. What is the message?"
WHEN THINGS STARTED HEATING UP
At this point, Jeannie cut Tamera off and disagreed with her.
"I hear what you're saying, but I disagree because they do care. And your kids are learning."
Before Jeannie could add to her statement, Tamera interjected "At 5 years old and at 3 years old, my daughter isn't thinking … " but was cut off mid-sentence by Jeannie who asked that she let her finish.
"Let me finish. Let me finish really quick. All I'm saying is, I was that girl. I learned how to speak English …"
But Tamera, who appeared frustrated replied.
"I'm speaking for my kids and my experience, so you can speak from yours."
JEANNIE'S POINT
To prove her point further, Jeannie explained,
"I'm just saying, Tam. For me, I had to learn from them, too. I learned watching "Sesame Street" how to speak English, and Bert and Ernie were my best friends. I believed in them and I learned from them, how to have a healthy and happy relationship. I learned how that relationship works. So when "Sesame Street" says they're not gay, it says to me that being gay is not OK. That's the problem. That's the problem with this situation."
Jeannie adds that it was important for different types of families to be represented on television and for children to see that.
"There are kids out there that have two moms and have two dads and they need to see that love takes shape in all forms. When Bert and Ernie are together, they have potential to break down barriers."
NO HARD FEELINGS
Though it appeared Tamera and Jeannie were battling it out on the show, the two co-hosts assured fans later that it was just a friendly discussion that ended on a good note. They both shared the same photo of the two of them hugging on their Instagram accounts to send out the message that there were no hard feelings between them. On her version, Tamera wrote "We're cool" in her caption while Jeannie wrote "I don't know what I'd do without her" in hers.
SO ARE BERT AND ERNIE GAY?
Questions over Bert and Ernie's sexuality began to surface when former "Sesame Street" writer Mark Saltzman hinted at their homosexuality during an interview with the LGBTQ lifestyle website Queerty. He told the publication,
"I always felt that without a huge agenda, when I was writing Bert and Ernie, they were [gay]."
However, Sesame Workshop released a statement denying his claims.
"As we have always said, Bert and Ernie are best friends. They were created to teach preschoolers that people can be good friends with those who are very different from themselves. Even though they are identified as male characters and possess many human traits and characteristics (as most Sesame Street Muppets do), they remain puppets, and do not have a sexual orientation."
MEANWHILE TAMERA'S FIGHT ISN'T OVER
Tamera may have hugged it out with Jeannie after their heated discussion but she has another battle that won't settle down. She recently defended her husband Adam Housley from insinuations that he was racist. The former Fox News journalist posted a photo of his biracial family and described its craziness "on both sides." This didn't sit well with those who associated his caption with President Donald Trump's own statement, "some very fine people on both sides." Many accused Adam of being a racist and Tamera made sure she corrected that notion on her show by saying he's not.
Please fill in your e-mail so we can share with you our top stories!