'Little People, Big World' stars Amy and Chris celebrate their 2-year anniversary
Four months after divorcing from her husband, Matt Roloff, Amy Roloff found love with Chris Marek. They've been dating since 2016.
On Saturday, the pair celebrated their two year anniversary. Amy took to Instagram to share the news and a number of pictures with her boyfriend.
Amy Roloff, "The Little People, Big World" star took to social media to share the news of her two year anniversary. The pictures she included showed her enjoying a romantic dinner and a beautiful sunset with her boyfriend Chris Marek.
She was married to ex-husband Matt Roloff from 1987 until their divorce in 2016. The two have four children together who have starred alongside them on their reality show.
For more on this story go to our Twitter account @amomama_usa. The parents have twin boys Jeremy and Zach, a daughter Molly, and another son Jacob.
Their reality show has covered Amy and Matt's marriage difficulties and has shown the pair fighting about serious and small issues. They've dealt with Matt's DUI to financial struggles and more.
Matt appears to have moved on as well and he is currently dating girlfriend Caryn Chandler. The exes still live on Roloff Farm together but in separate houses.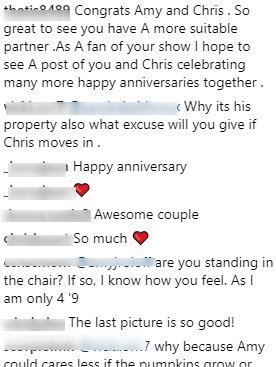 It seems their divorce was good for them as they're slowly starting to get along. Last week, Matt sent Amy well-wishes on her birthday.
Amy shares her birthday with her daughter Molly. Matt wrote in the post:
"A very Happy Birthday to both Amy and Molly who share the exact same big day. I hope you both have a wonderful amazing Day!! Happy Birthday to you both."
"Little People, Big World" used to include all the children but Jeremy and his wife, Audrey, are no longer going to be a part of it. Jacob left the show in 2016.
Molly is not seen very often as she relocated to Spokane, WA with her husband. The show recently bid farewell to a veteran member of the production crew.
In a post, Amy said goodbye to Dean adding that it was "kind of sad" as he had been with the rest of the cast from their first season of the show. She added that he would be missed.