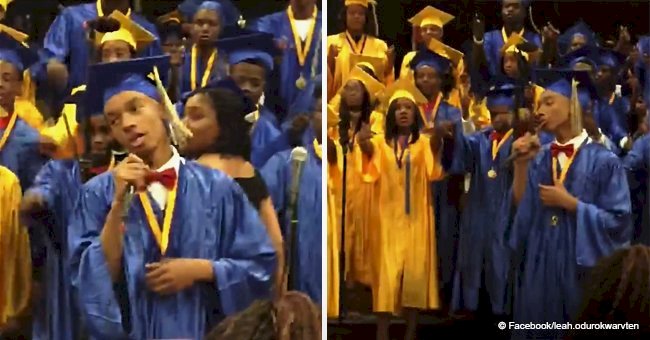 Graduate brings smiles & tears to the eyes singing 'Before I Let You Go' in viral video

Graduates performance "Before I Let Go" brings both smiles and tears to everyone; the crowd included. The video went viral on social media, warming people's hearts.
Eighth-grade graduates sang as a choir on their graduation day and got the crown emotional and on their feet. The students of Brookwood Jr. High School in Glenwood, IL, performed their own rendition of "Before I Let Go" – a classic hit by Frankie Beverly and Maze in their 1981 album, Live In New Orleans.
The graduating class was led by Mesiyah Oduro-Kwarten with a beautiful and lively voice, followed by the swaying and back up singing of his batchmates who were all draped in blue and yellow toga's. Mesiyah gave it all he got and deeply felt the lyrics as he belted out his rendition of the hit song, which had a big audience impact.
The clip also captured the audience who were on their feet, singing and swaying along with the students – a deeply proud moment for all the parents and teachers. The video was posted on Facebook by Leah Oduro-Kwarten, mother of Mesiyah and went viral reaching over 3 million views and 85,000 shares.
People made sure to praise the class for their beautiful rendition of the song, even posting comments about how talented the bunch was.
Truly, graduation is an emotional event for both students who have worked hard to earn a diploma, and parents who also worked hard to send their children to school. The tribute from the graduates was probably a way of thanksgiving to their parents and teachers, as well as a celebration for their hard work and years with their classmates.
Similarly, a video of a 5th grader, Cherish Woods, gained lots of attention on social media as she passionately sang Michael Jacksons "We are the World" during her graduation at Park Avenue Elementary School, Danville. According to Cherish, the video was completely candid as she did not know she was being recorded. She also shared that she comes from a family of singers, hence her beautiful voice.
Please fill in your e-mail so we can share with you our top stories!