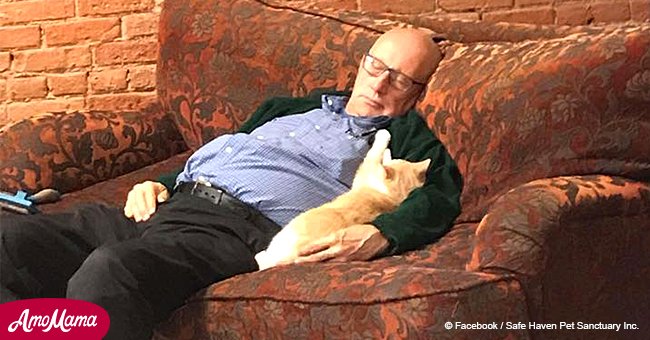 75-year-old man's primary job is to sleep with various shelter cats
Terry Lauerman gained attention online after photos of him dozing off with felines spread on social media. Reportedly, it's the 75-year-old man's job to sleep with shelter cats.
Lauerman from Wisconsin found his calling and discovered his post-retirement career, which has been napping with various cats at a local shelter.
He works as a volunteer at the Safe Haven Pet Sanctuary in Green Bay.
According to the shelter's Facebook post, sleeping with the cats is a part of Lauerman's job.
Follow us on Twitter at AmoMama USA for more viral stories and videos.
At first, taking a nap with the animals was not part of his duties as a volunteer. Although, the shelter said it was a good thing for the cats and let him doze off with them eventually.
The founder of the shelter, Elizabeth Feldhausen, said that the 75-year-old "just walked in" one day.
With a cat brush on his hand, Lauerman was determined to become a volunteer at the shelter.
After six months of showing up every day at the shelter, Feldhausen eventually decided to make Lauerman and official volunteer. In fact, he even filled out their volunteer form.
Each day, Lauerman spends an hour to sleep on the couch with one cat. Afterward, he wakes up and gets another cat to doze off with.
Even though his job isn't a paid one, he seems to enjoy his work.
On the shelter's Facebook post, they gushed how lucky they are to have Lauerman as their volunteer.
"Terry just came along one day and introduced himself. He said he'd like to brush cats. Eventually, it became every day. He brushes all of the cats and can tell you about all of their likes and dislikes. He also accidentally falls asleep most days. We don't mind – Cats need this! Terry is a wonderful volunteer."
Since the post was uploaded, over 89,000 Facebook users reacted to it. It had also been shared more than 24,000 times.
The founder also set up a fundraiser for the shelter under Lauerman's name, and it had already raised over $16,000.
In an interview with Upworthy, Feldhausen said they rescue cats that have been abandoned or cats that suffer from a terrible health condition.
She said, "We rescue cats with disabilities and special needs — anywhere from anxiety to paralysis to diabetes to thyroid problems."
Please fill in your e-mail so we can share with you our top stories!