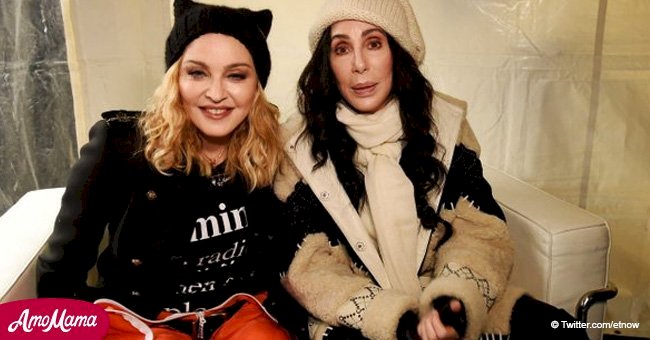 Cher claims she wouldn't wish to duet with Madonna during Ellen DeGeneres show
Cher has some more words on Madonna.
On Monday's episode of The Ellen DeGeneres Show, she had the 72-year-old pop star Cher as a guest.
Read more on our Twitter account @amomama_usa.
Source: etonline.com
ON MADONNA NOW
As part of the show the talk host, Ellen DeGeneres plays a game with her guest called the '5 Second Rule' game.
In this game, you are only given five seconds to answer three questions.
Source: etonline.com
Madonna and all her children recently flew out to the first anniversary of the Mercy James Center for Pediatric Surgery and Intensive Care in Malawi, where rare photographs were taken of the whole family together. For the full story and pictures visit Madonna shares rare photo of all six children together.
The 59-year-old, who has been living in Portugal since 2017, flew to Blantyre, in Malawi, to celebrate the first anniversary of the medical center, which was named after one of her adopted daughters.
When Cher was asked for three stars she'd like to duet with her response was:
"Adele, Pink and not Madonna!"
Source: etonline.com
ON MADONNA IN 2013
But during a 2013 interview with Andy Cohen on Watch What Happens Live Cher said:
"I'm totally good with Madonna!. Madge and I have gone through our thing, but no, I'm totally good with her."
Source: etonline.com
ON MADONNA IN 1991
During an interview with Steve Kmetko in 1991 Cher told him:
"There's something about her that I don't like. She's mean, and I don't like that. I remember having her over to my house a couple of times because Sean [Penn] (Madonna's ex-husband) and I were friends, and she just was so rude to everybody. It seems to me that she's got so much that she doesn't have to act the way that she acts, like a spoiled brat all the time."
Another preview song from Cher's ABBA tribute album Dancing Queen will be out next Friday.
The preview single from the group's 1981 single 'One of Us.'
For more on this go to Hear Cher's Moving Cover of ABBA Ballad 'One of Us'.
Please fill in your e-mail so we can share with you our top stories!