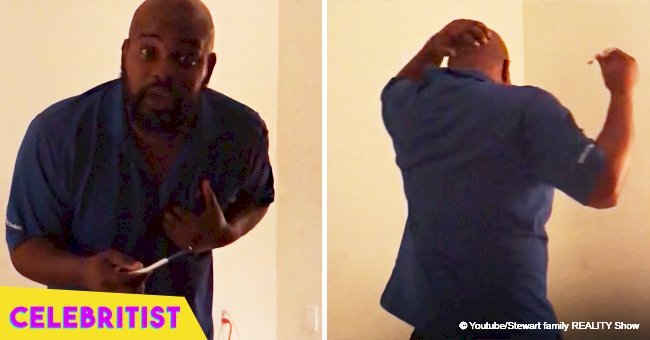 'Babe, we're old!' Man's hilarious reaction to announcement of wife's 4th pregnancy went viral

Charles Stewart left the internet in stitches when his reaction to his wife's 4th pregnancy was posted on social media.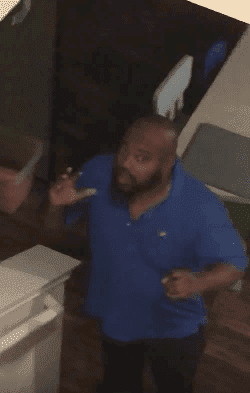 YouTube/Stewart Family Reality Show
When Jahann Brown Stewart found out she was expecting their fourth child, she thought it would be a good idea to record her husband's reaction. She told TODAY Parents:
"My husband is a natural comedian, I knew his reaction would be funny."
The clip- almost seven minutes long- began with Jahann placing a positive pregnancy test on her drink. She then goes into the living room where she asks Charles to get her the drink. Charles returns emptyhanded and starts to pace from one end of the house to another.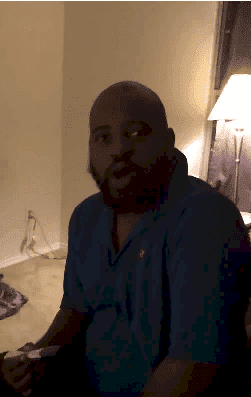 YouTube/Stewart Family Reality Show
He races down the stairs. "I'm leaving!" Charles yells. "Did you get that from a joke store? Did you get a blue marker?"
He blows on the pregnancy test dramatically, willing it to turn negative. Clutching his chest and ribs, Charles continues:
"Oh Lord, my chest hurts. My side hurts."
Once he realizes his wife is not playing a prank and that they'll be welcoming a fourth child, Charles told Jahann:
"Babe we old. I'm sleeping with longjohns on from now on."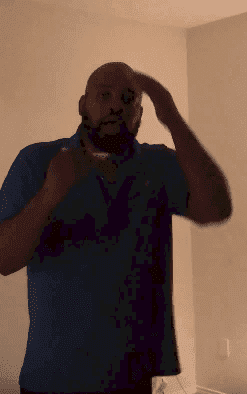 YouTube/Stewart Family Reality Show
Overwhelmed, he asks his wife what they're going to do about the expected addition.
"What you mean what are we going to do?" Jahann replies. "We're going to do what we did with the last three."
Charles and Jahann already have three kids- Jaylinn, 15, Charles, 10, and Journee, 6. In an appearance on "The Ellen Show," Jahann revealed their new baby, a boy, is expected on the 2nd of November, 2018.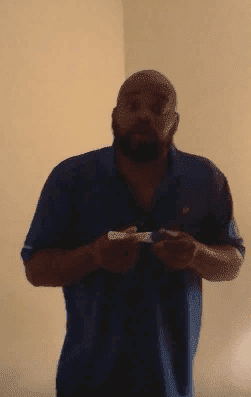 YouTube/Stewart Family Reality Show
A supportive Charles told TODAY Parents:
"My wife and I declared on New Year's Day that 2018 was going to be our year, so when I saw the pregnancy test, I blacked out. I thought it would be impossible to reach the goals we set, but now I think we can still do it. We just have to save a little more for diapers."
When Jahann posted the video on her Facebook page, she only meant it for family and friends. Before long, however, the video went viral, garnering millions of views in no time. Various publications have published their story and the couple has appeared on many talk shows.
Charles had another epic reaction on "The Ellen Show," and this time, Jahann was right along with him. The couple was surprised with a cash gift of $20,000 that left Charles dazed and drove Jahann to tears.
Please fill in your e-mail so we can share with you our top stories!