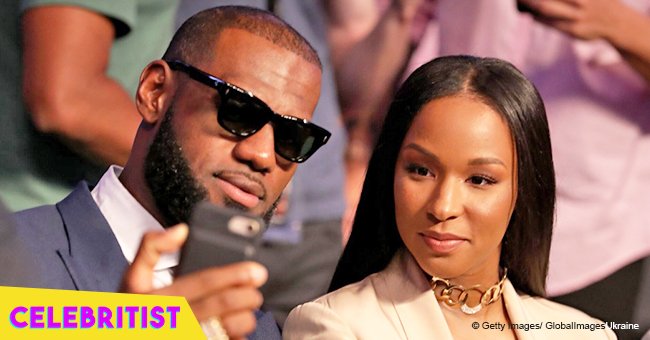 LeBron James and his wife are all smiles posing with their 3 kids in new photo
LeBron James took his family for a lovely afternoon out at the premiere of the animated film "Smallfoot," where the NBA star lent his voice to an animated Yeti. The premiere came just a few days after another big news involving James' Hollywood career was finally unveiled.
LeBron and his wife Savannah are all smiles in a recent pic shared by the basketball player on his Instagram as they pose in the blue carpet flanked by their three kids. Savannah looked gorgeous wearing a peach t-shirt, jeans, white sneakers, and a floral headband, while James kept it casual with a blue t-shirt, a black jacket, jeans, and a dark blue cap.
The kids also rocked the carpet, Lebron Jr., also known as Bronny, donned white from head to toe, while his brother Bryce went for a more sporty-looking outfit, with black sweatpants, a white hoodie, and sneakers.
Littke Zhuri, 3, stole the spotlight in a sleeveless denim jumpsuit, white shoes, and a headband with cat ears adorning her curly locks to complete the look.
"Everybody on 3 say find your own camera. 1..2..3..#JamesGang @smallfootmovie World Premier "Blue" carpet," James captioned the picture, bringing to attention the fact that all of them were looking at different directions in the family shot.
Fans of the James family took over LeBron's comment section to share their thoughts on the picture. "That baby girl melts my heart. God bless you and your family. Your wife is truly blessed, and you're blessed to have her..." wrote one fan, and another added, "Oh you guys are beautiful! Look how tall your oldest boy is! Have a super life! Love you guys and are so proud of you!"
LeBron's family were not the only ones who got to enjoy an exclusive premiere of the "Smallfoot" movie, as a few weeks ago, the kids from the I Promise school James founded in his hometown, lived the entire experience as well. The kids were treated to an exclusive screening of the film, with a "white carpet" included.
THE SPACE JAM REBOOT
And on related news, LeBron James finally confirmed the rumors that were swirling around the web in the last months after he posted a photo from the upcoming new "Space Jam" film. It will be James' first leading acting role in a movie and will have him sharing the screen with the Looney Toons, just like Michael Jordan did back in 1996.
Ryan Coogler, the director of "Black Panther," will be producing the movie. Talking to The Hollywood Reporter about the project, LeBron stated that:
"The Space Jam collaboration is so much more than just me and the Looney Tunes getting together and doing this movie. It's so much bigger. I'd just love for kids to understand how empowered they can feel and how empowered they can be if they don't just give up on their dreams. And I think Ryan did that for a lot of people."
Like in the first movie, people are expecting to see cameos from other basketball players, but the project is still on its starting phase, and nothing has been confirmed. However, according to reports, the possibility of bringing back Michael Jordan even if it's for a cameo is being considered.
The movie is set to start filming on the NBA 2019 offseason, and now that LeBron moved to Los Angeles to play for the Lakers, he should be able to fit in the schedule with his basketball career without many troubles.
Please fill in your e-mail so we can share with you our top stories!