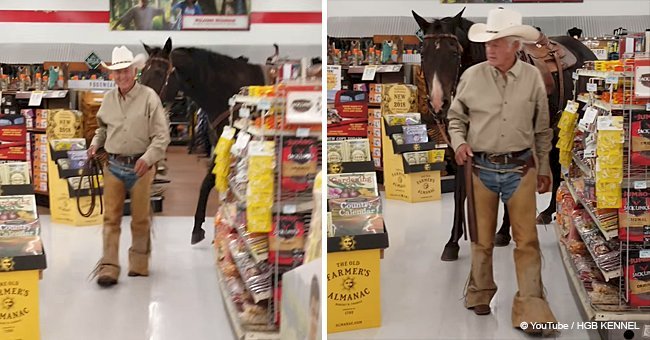 Oklahoma man bringing his unusual pet inside the store goes viral
Robin Morris is a Cheyenne, Oklahoma resident who was in for a surprise at the beginning of this month. She was in the checkout line at the Elk City Tractor Supply Company when cowboy walked in.
Besides the man's typical cowboy look, he had a strange request for the store's employees. He asked if he could bring his majestic horse into the store.
Robin Morris was in the checkout line at the Elk City Tractor Supply Company when an unidentified man walked into the store. Morris revealed how the scene played out saying:
"I was checking out when the gentleman came in and was asking the ladies if he could bring his senior horse in to pick up senior feed."
For more on this story go to our Twitter account @amomama_usa. The employees weren't sure what to do so they asked their boss if the man could bring his horse inside.
The manager agreed stating that all pets were welcome as long as they were on a leash. The horse was wearing a bridle which is technically a leash so they went inside.
Morris took to Facebook to share videos and photos of the strange event. She captioned one of her posts, "Only in Oklahoma!"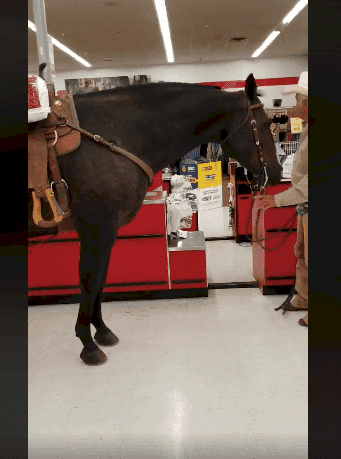 Source: Facebook/Robin Morris
The post immediately went viral on social media. One video showed the man walking through the front of the store, before going around to the checkout line.
Another post, showed him throwing a bag of feed onto the saddle of the horse before going to check out. While paying at the counter, the man allowed some children to come over to pet the horse.
Then, the two left the store as if they've done it before many times. Morris shared why she'd recorded the strange occurrence saying:
"[I chose to] stick around to watch and record it [because] I figured most wouldn't believe it."
She added that she thought it was funny and it had made her smile, so she wanted to share it with her friends.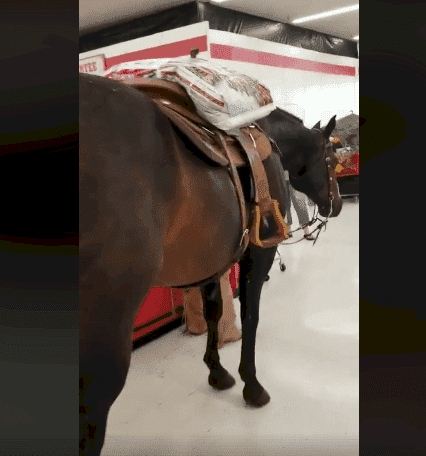 Source: Facebook/Robin Morris
In a different incident, another Oklahoma man named Milton Davis was caught on camera attacking a Domino's Pizza manager. Davis finally gave his version of the incident that happened a few months ago in Guthrie.
He contradicted the manager Mike Merkle by saying he was given sarcasm when he asked for his $25 back after his order was mixed up. Davis is facing an assault and battery charge and was due back in court on October 11.
Please fill in your e-mail so we can share with you our top stories!