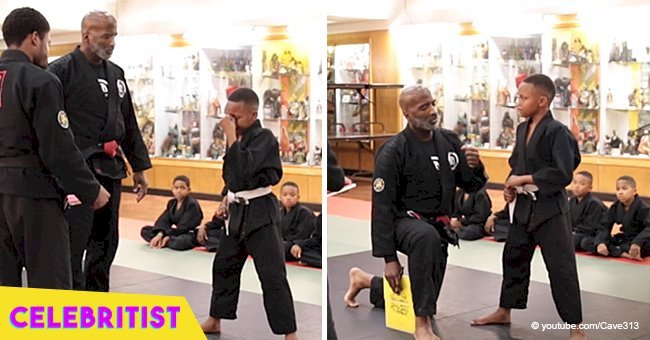 'It's okay to cry,' Martial arts teacher consoles crying boy in touching viral video

A martial arts teacher was filmed consoling one of his students, but his words to the young boy resonates with people across the world, and the video has since gone viral.
The clip begins with nine-year-old Bruce Collins III attempting to break a slab as part of his initiation test at the Cave of Adullam Transformational Training Academy. Collins then gets emotional and begins to cry.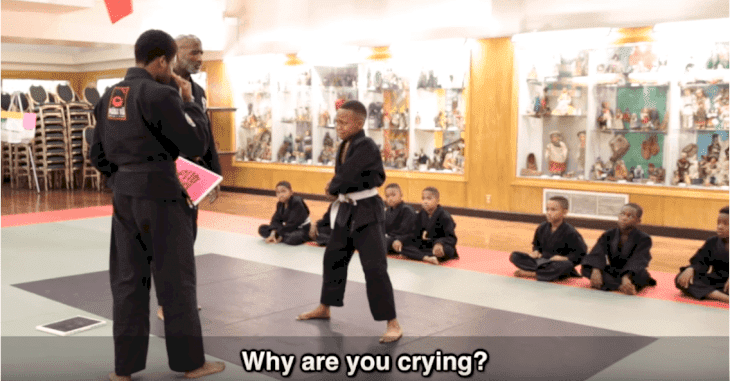 YouTube/Cave313
Jason Wilson, the Academy's founder, and lead instructor gets down on one knee to speak with his student at eye-level:
"It's okay to cry. I don't mind you crying, I cry a lot too."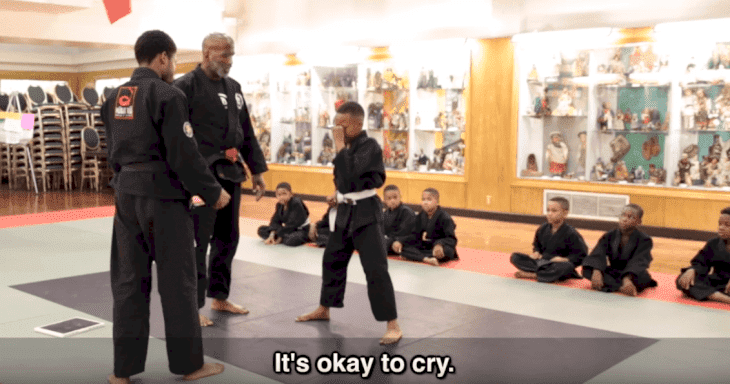 YouTube/Cave313
Wilson goes on to tell Collins "you're pulling your blow" probably from fear or the "feeling that you'll not make it" but reminds the nine-year-old:
"Being a black man in this country, you're going to need mental fortitude. You're going to have to be strong here [points to his head] more so than here [clenches his fist]. You can do it. You just gotta put your mind to it."
Charged by his trainer's words, Collins succeeds in breaking the slab.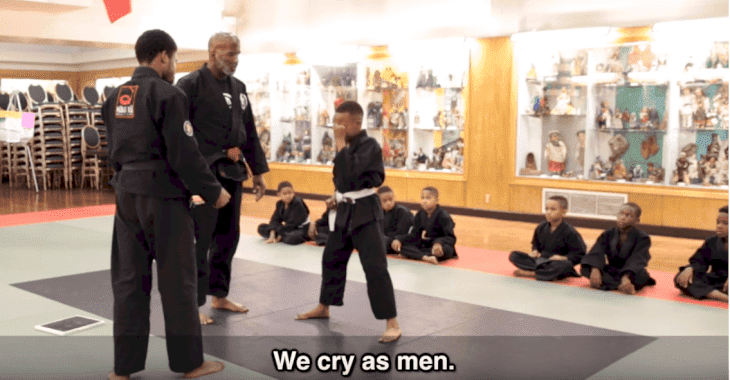 YouTube/Cave313
BOYS CAN CRY TOO
In an interview with TODAY, Wilson, who is called "Sharath" (Hebrew word for "servant") by his students, said about his exchange with Collins:
"I wanted him to know, it's OK to cry, but the key is knowing why you're crying. What that does for a young boy, regardless of his ethnic background, is say, 'Now I can shake off this false masculinity I've been taught, that it's not human to be this way.'"
The video has garnered over one million views since it was published on YouTube in 2016. Social media users have commended Wilson for attacking wrong stereotypes of masculinity. One user said:
"FINALLY. Someone telling a boy its [sic] okay to cry."
At Cave of Adullam, Wilson teaches Mūsar Rū or "Discipline of the Spirit," a practice that combines Aikijutsu, Brazilian jujitsu, combat boxing and a host of other styles.
HEROES WITHOUT CAPES
There's no underestimating the power of a teacher, and just as Collins discovered, so did the students of two other extraordinary tutors, Mr. Bailey and Kumu Hina.
Bailey, a first-grade teacher, went viral after his colleague shared a photo of him sitting with a student in the middle of the hallway. The kid had been acting out in class, but Bailey was not willing to give up on him.
Kumu Hina, on the other hand, is a transgender hula teacher at a Hawaii, public school. As a child, she was bullied for being too girly, so she understood the frustrations of Ho'onani, her sixth-grade student who wanted to dance with the boys despite being a girl.
Kumu Hina and her student were featured in a 25-minute documentary, "A Place in the Middle" which is aimed at encouraging support and preventing bullying for gender nonconforming students.
Here's to all the awesome teachers out there: You guys rock!
Please fill in your e-mail so we can share with you our top stories!