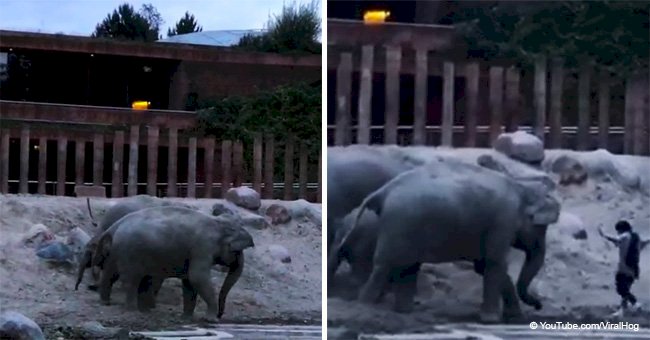 Gentle elephants show mercy when unwelcome guest trespasses in their enclosure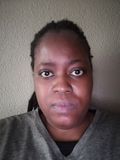 Last Thursday, an incident occurred at the Copenhagen Zoo, Denmark, where things could've turned fatal. An unidentified man jumped into an enclosure with elephants.
Fearful observers tried to shout at the animals to distract them. The daredevil appeared to remain calm as the elephants approached him.
Video footage showed an anonymous man crouching on a rock on the edge of an elephant enclosure. Shocked onlookers tried making a noise and shouting at the Asian elephants to try and distract them.
Two adult elephants appear to go toward the man. Judging from the footage, they were probably instinctively guarding the calf that had curiously walked toward the intruder.
For more on this story go to our Twitter account @amomama_usa. When the elephants got closer, the man stepped down from the rock.
With his arms spread out at the sides, the seemed to be trying to calm the large mammals by appearing non-threatening. A woman watching from outside of the enclosure could be heard yelling at the elephants to stay away from the intruder.
Calmly, the man moves toward the far side of the enclosure and walks frighteningly close to the majestic elephants. Still, with his arms out, he walks towards the exit.
All three elephants could be seen rushing to follow close behind him as he manoeuvred his way over the rocky ground. The adult elephants could be heard roaring and snorting in a show of their displeasure at the intruder being in their enclosure.
The man reaches the edge of the enclosure and manages to haul himself up over a wall to safety. Ekstra Bladet, a Danish newspaper revealed that the Copenhagen police had received reports from people at the zoo about the incident.
By the time they arrived, the intruder had already left. Officials have launched an investigation based on CCTV and witness footage of the incident.
In 1986, Levan Merritt, 5, fell 12 feet down into the UK's Jersey Zoo gorilla enclosure and was knocked unconscious with a fractured skull. Gorillas began to approach the child but a silverback named Jambo came in between the child and the other gorillas.
Merritt made it out unharmed and in the years that followed, Jambo was honored with memorials commemorating his actions. He later passed away in 1992.
Please fill in your e-mail so we can share with you our top stories!