Secret footage reveals two nurses forcibly push and pull the granny, 92 while laughing
The footage from a secret camera showed the horrors in a nursing home. 
Ed Robins was visiting his mother at Perth's Morrison Lodge nursing home when he noticed bruising and scratches on the 92-year-old woman's skin.
Robins decided to install a small video camera in her room, and what he discovered would be a horrific revelation of what life was really like inside the highly-rated nursing home, reported ABC Australia.
Mrs. Robins had recently broken a leg and was suffering from progressive dementia, and the assisted care facility was the best option, or so her worried son believed.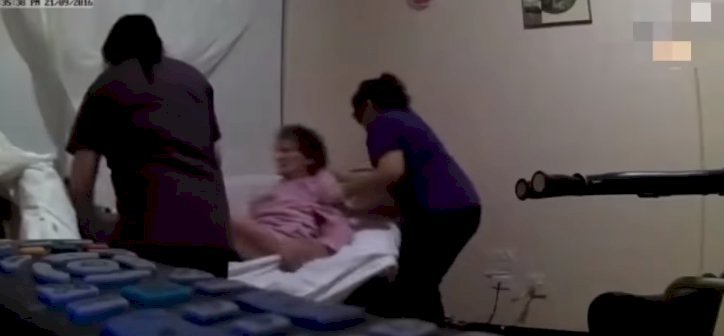 "She was being abused. There's different types of abuse. She has been physically abused, in our eyes, and from what we were told by the police."
Ed Robins, ABC Australia, September 24, 2018.
THE SECRET CAMERA EXPOSED THE STAFF'S BEHAVIOR
Robins was horrified when he viewed the footage from the camera he had set up in his mother's room. In it, his frail mother is seen being manhandled in a callous and brutal fashion into her bed by two caregivers.
In the video, the caregivers push her head down and roughly shove her broken leg into bed, as the woman complains and asks them not to pull her hair.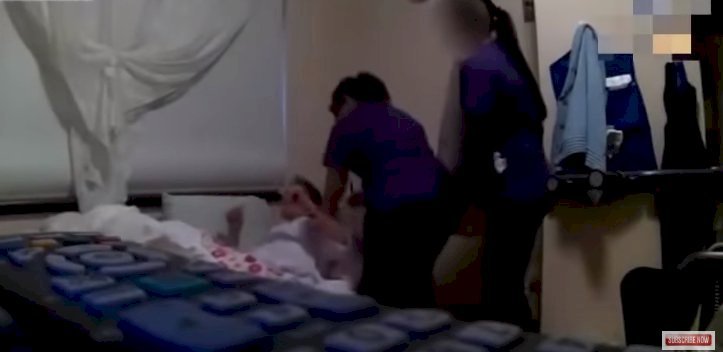 HER CALLS FOR HELP WERE IGNORED
On another occasion, Robins said, his mother fell on the floor and lay there calling for help for over twenty minutes before anyone came to her rescue.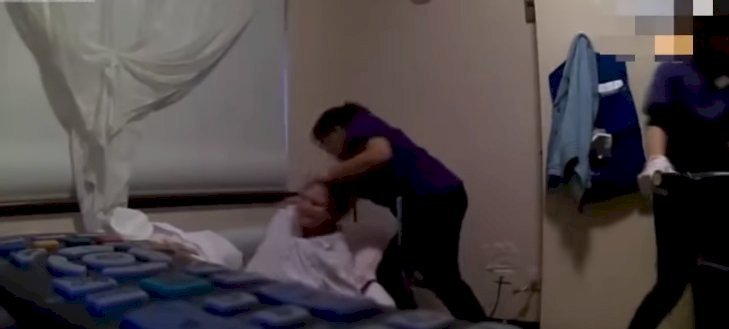 THE CAREGIVERS WERE ARRESTED AND CHARGED WITH ASSAULT
Robins handed his video to the Perth police and the two women were charged with 12 counts of assault based on the incidents captured by the hidden camera.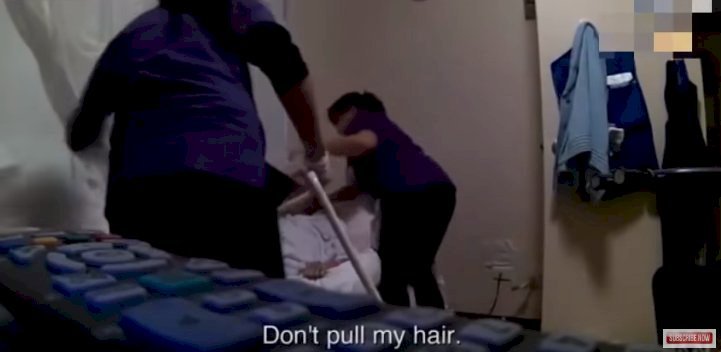 SHOCKING ACQUITTAL STUNS AUSTRALIA
The two women were arraigned and brought before Magistrate Gregory Smith who acquitted them of all charges, saying that their actions were justified because Mrs. Robins was "often violent and abusive towards staff".
ELDERLY WOMAN COMPARED TO A TWO-YEAR-OLD CHILD
Gregory went on to compare the carers' reactions as that of people faced with a recalcitrant toddler who needs a show of strength or the application of  "extra force"  in order "to achieve what has to be achieved."
Other caregivers in the same institution had admitted to having witnessed "rough handling" on several occasions when questioned during the course of the investigation.
AND THEN THERE ARE ANGELS
On the opposite side of the world, a man recorded the unusual treatment accorded to his dying grandmother, Helen, by a nurse.
Jeremiah Nichol was visiting his grandmother on a Friday when he walked in on a strange and moving scene. Sitting next to his grandmother and holding her hand was a nurse, Isabelle, who was supposed to be enjoying her day off.
Instead, Isabelle chose to be with Helen and provide whatever comfort she could to the dying woman. She was singing hymns to the woman, in a piercingly sweet and pure voice.
A few days after the video was recorded, Grandmother Helen passed away.