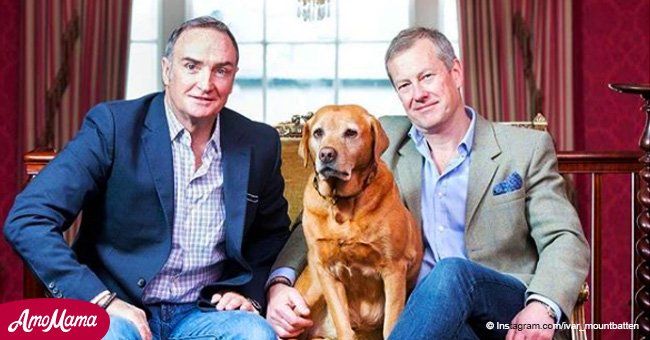 Queen Elizabeth's cousin just made royal history with first same-sex marriage
Queen Elizabeth's cousin, Lord Ivar Mountbatten, made history with the first same-sex wedding in the history of the Royal Family.
The royal tied the knot with James Coyle on Saturday, September 22, 2018, at a private chapel on Mountbatten's country estate in Devon.
Mountbatten preferred to keep the ceremony as private as possible but he couldn't help but share a few photos of the wedding afterward on Instagram.
Follow us on our Twitter account @amomama_usa to learn more.
It was a very special moment for the two lovebirds and not even the rain that stubbornly hit the grounds was able to ruin their perfect day.
"It was an amazing day despite the miserable British weather. Fabulous service conducted by Trish Harrogate, chief Registrar for Devon, who set the perfect but lighthearted tone for what is a serious occasion."
Lord Ivar Mountbatten, Instagram, September 22, 2018
FAMILY SUPPORT
Aside from Trish Harrogate, the royal didn't miss the opportunity to thank the gospel choir and the Bristol's Teachers Rock Choir for the entertainment provided.
Mountbatten's ex-wife, Penny, also attended the ceremony and played a crucial role in it: she was was the one who gave him away, an idea that their three daughters came up with.
HE DID IT FOR LOVE
Ella, Alix and Luli received a special mention in their father's thank you notes, especially for 'being so understanding and supportive,' claiming that without their support, the wedding wouldn't have been possible.
Queen Elizabeth II's cousin came out in 2016, several years after divorcing Penny. During an interview with the Daily Mail, Mountbatten revealed that he didn't need to get married but 'wanted to do it for James.'
DIFFERENT TIMES
Gay marriage is becoming more common nowadays, which is a sign that society's mentality is changing. It is changing so much that even the 39th U.S. President Jimmy Carter confessed that, despite his religion, he had no problem with gay marriage.
But while Mountbatten didn't want to get maried, Jim Parsons, from "The Big Bang Theory," revealed that marriage improved his relationship.
While talking to Stephen Colbert, the actor shared that the ceremony made everything feel real, even though he had been with his partner, Todd Spiewak, for 15 years.
That was something Parsons didn't expect and surprised him deeply because he used to say that marriage didn't have any meaning to him.
Please fill in your e-mail so we can share with you our top stories!