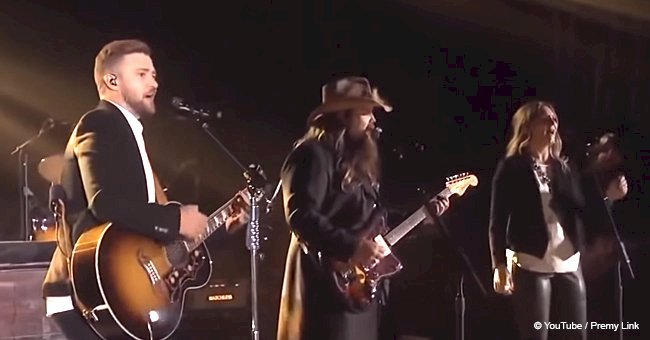 Remember Chris Stapleton and Justin Timberlake stunning perfomance "Tennessee Whiskey"
Chris Stapleton and Justin Timberlake team up for another duet after "Tennessee Whiskey."
Chris Stapleton joined Justin Timberlake onstage on May 9, 2018, to perform their hit duet, "Say Something."
Timberlake performed at the Bridgestone Arena in Nashville as part of his tour promoting his album, "Man of the Woods", in which he explores country themes and rhythms.
"Say Something" was one of the highlights of the evening, when Stapleton appeared onstage unannounced to perform the song with Timberlake and the video was posted on Facebook by Country Lyriques where it garnered over 7 million views.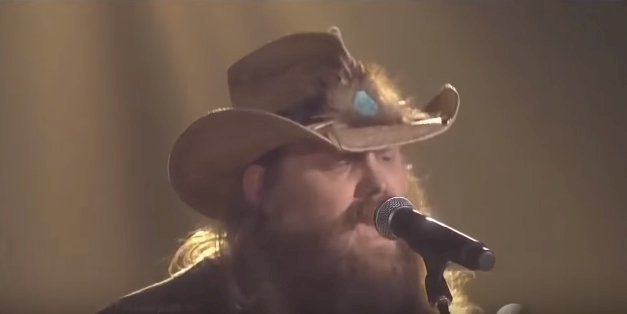 Source: YouTube/ Premy Link
"Now you know we can't let you leave without playing this song."
Chris Stapleton, TasteOfCountry, May 10, 2018.
A SECOND DUET BETWEEN THE TWO MEN RESULTED IN ANOTHER HIT
After his first duet with Timberlake, "Tennessee Whiskey," Stapleton went from being a critically respected, but little-known singer-songwriter to an overnight country sensation.
At the 2015 CMA Awards, Stapleton made a sweep of all the major awards and is now one of the best-selling artists in country music.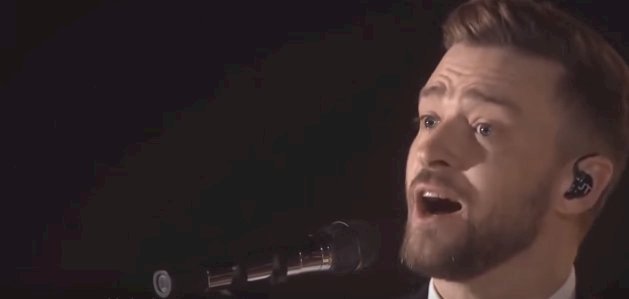 Source: YouTube/ Premy Link
A RETURN TO BRIDGESTONE ARENA WITH THE SECOND DUET
The first performance of "Tennessee Whiskey" also took place at the Bridgestone Arena, and it was the first time the two men shared that stage since that memorable evening.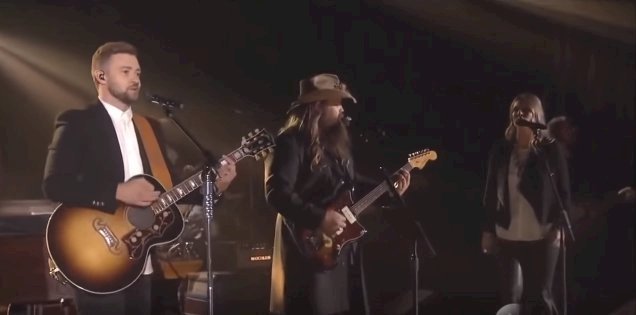 Source: YouTube/ Premy Link
A MEMORABLE PERFORMANCE THAT HAD THE CROWD ON ITS FEET
Timberlake and Stapleton segued from "Say Something" into a bit of "Tennessee Whiskey" and led the enthusiastic Bridgestone audience in a singalong.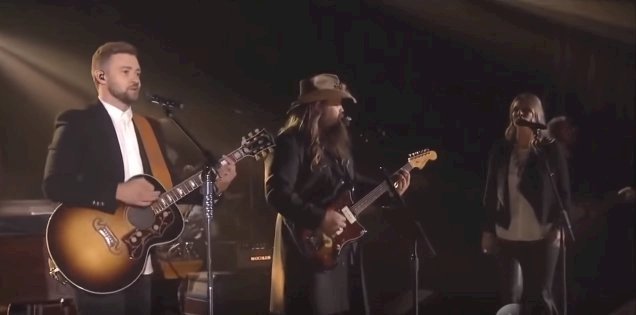 Source: YouTube/ Premy Link
"SAY SOMETHING" WAS WRITTEN BY TIMBERLAKE WITH STAPLETON'S COLLABORATION
"Say Something" was written and produced by Timberlake, Larrance Dopson, Floyd Nathaniel Hills, and Timbaland, with additional songwriting by Stapleton. It debuted at number 9 on the US Billboard Hot 100, becoming Timberlake's 19th top 10 single as a solo artist and Stapleton's first.
STAPLETON SANG ARETHA FRANKLIN 1967 HIT
Soul DIva Aretha Franklin died on August 16, 2018, at the age of 76 after a bout with pancreatic cancer, and Chris Stapleton paid homage to the woman he considers to be "the greatest singer that ever lived."
Since then, the Detroit singer has been honored with a number of tributes, both musical and written, from luminaries like Barack Obama, Mavis Staples, Faith Hill, Willie Nelson, and Rosanne Cash.
Chris Stapleton sang his tribute at the Forum in Los Angeles, by performing his "all-time favorite," Franklin's 1967 hit "Do Right Woman, Do Right Man."
Stapleton was accompanied by bassist JT Cure, drummer Derek Mixon, Dave Cobb on guitar and special guest Mickey Raphael on harmonica and their rendition of the Franklin song brought the audience to its feet.
In a related story, Jessica Biehl shared photographs taken on her European Summer holiday with husband Justin Timberlake and their son Silas.
Please fill in your e-mail so we can share with you our top stories!