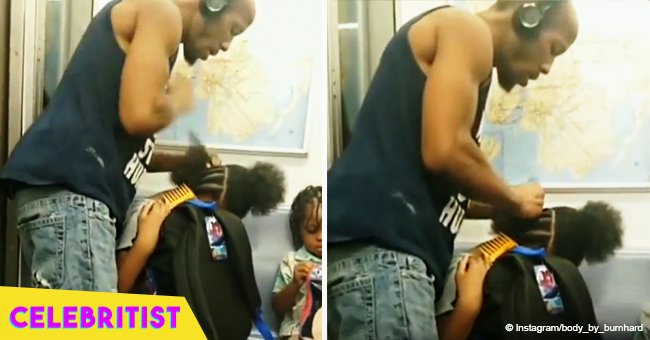 Video of father braiding daughter's hair in NYC subway went viral
Time management can be hard when there are kids in your life, but a father of two made the best of his subway trip by braiding his daughter's hair. A holistic trainer recorded the man on dad duty, and the video became viral after he shared it on his Instagram.
A black father made the internet go crazy over setting an example to other fathers out there after a video of the man doing his daughter's hair gathered nationwide attention. In the clip, taken on train four via the Bronx in New York City, a father is seen listening to music with his headphones on while braiding his daughter's hair while his other child sat next to her sister.
Scott Bernard, a holistic trainer, shared the video with his 80k Instagram followers as he felt inspired by the man's actions and wanted to help spread positivity around black fathers on social media. "This really touched my HEART seeing this because I know one day I WILL become a father and would do ANYTHING for my children," he captioned the clip and added:
"I seen this honorable father fixing his daughters hair and being a great example of what a REAL MAN should do for his kids, before he left the train I said "God bless you my brother " I just want to Say " SALUTE TO ALL THE REAL FATHERS OUT THERE " you are all motivation for me when it's my time to become one and you are all appreciated, KINGS."
The man turned out to be a DJ and music producer that goes by the name of DJ Evvafross, and after getting an overwhelming response from netizens, he took to his Instagram account to thank people for all the love, saying:
"I just want to thank everyone for the love and support.. and for seeing that I was just trying to do what I thought was best as a parent!!!! ALL I ASK IS TO KEEP SHARING AND SHOW THE WORLD THERE ARE SOME GOOD #FATHERSLEFT."
The man even created a new online challenge daring other fathers to share videos where they're braiding their kid's hair, and while the response has been underwhelming, the man remains to make the rounds on social media with his initial video.
Read some of the comments below:
A BLACK FATHER GIVES A LESSON ON A KID'S TANTRUM
Another black father who became viral for setting an example and giving a lesson not only to his daughter but also to other parents out there was Terrel Crawford. The 29-year-old ended a public tantrum of his daughter in Walmart in an effective way and without whooping, yelling or recurring to the violence of any kind.
The dotting father simply got out of the establishment with his crying daughter and sat her on the hood of a car while he waited for her to calm down. Once the girl stopped crying, he warned her that, if she wanted to go back shopping with mommy, she had to behave or they would wait on the parking lot.
"See when you spoil the hell out of your kids this is what happens," he said, referring to her tantrum, and continued:
"That's our fault for being raised as ghetto kids and never having anything. But see people don't know how to tell their kids no. I don't care if you were born with a silver spoon in your mouth, do not put one in your child's mouth because this is what happens."
Please fill in your e-mail so we can share with you our top stories!