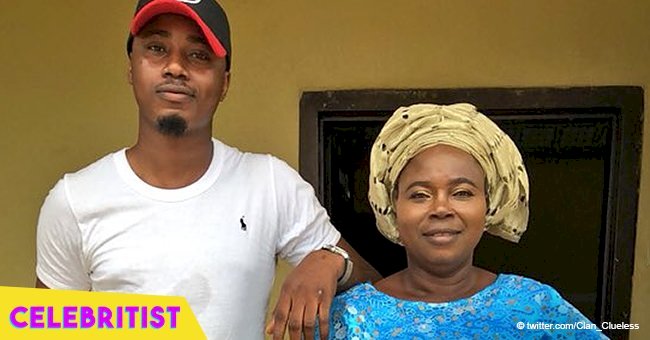 Mom's hilarious reaction after she was surprised with a car for her birthday goes viral

A mother is surprised by her son with a car and her reaction is a priceless memory he will never forget.
Abimbola O'larry Turner knew his mother was praying for a car. So, on her birthday, he decided to surprise her with one. Though he knew she would be thrilled to receive his gift, her reaction upon seeing it was more than he could ever imagine.
Turner's mom was leaving her church on a Sunday when she discovered her surprise gift waiting outside – a Lexus SUV car. Overwhelmed with excitement, she ran towards the car and danced along the way. She was also shaking her body and praising God for her answered prayer. She was in a pink suit and a black hat and she said she had asked for a car and got one.
Her hilarious reaction was caught on video by her son who posted it on Twitter and wrote,
"My mom had the best birthday surprise while she was in church today. Lol.Her reaction is everything."
The video went viral along with the photos of the car he posted. He also earned praises from his followers who lauded him for what he did.
There's nothing more fulfilling for a mother than to see her children's appreciation in the sweet gestures they do for her. Turner clearly showed how much he loved his mother, much like another Nigerian son who, along with a new car, surprised his mother with a party and penned a heartfelt message to greet her on her birthday.
"Dear mother, you have taught me so much through the years. I have learned to value the strength of a mother. I see how much you give everyday to make others happy. Nothing means more to me than to see your smiling face on your birthday. Happy birthday to you mom, and I love you from the bottom of my heart."
Meanwhile, football star Marquise Goodwin knew his success wouldn't be possible without his mother. And in gratitude, he went big and gifted her with a $20 million house. He purchased the property after signing a 3-year contract with the San Francisco 49ers. To prove his selflessness, he used the whole amount of his contract to buy his mom the house. His mother along with his disabled sister will be staying in that house. Goodwin revealed they had both been a source of comfort for him during difficult times.
Please fill in your e-mail so we can share with you our top stories!