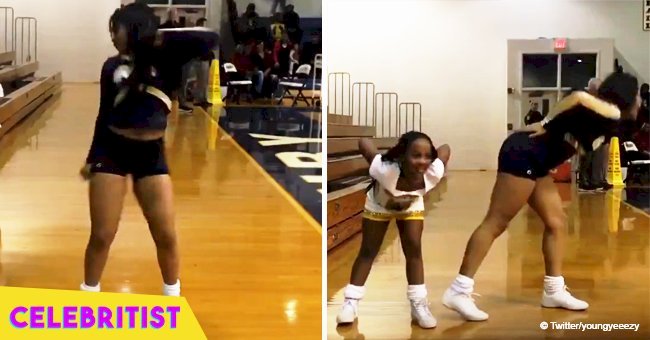 Little girl joins her cheerleader sister to show some energetic dance moves together
Two sisters from Virginia stole hearts all over the country with their incredible dance skills and their unique bond. The little girl looks up to her big sister, so the teenager knows she has to be accountable for her actions.
Na'Shiyah and Sherriyah Morris are ten years apart, but they have such a strong relationship that they share lots of common interests; and among them, cheering is one of the extracurricular activities where they love to spend their time.
The girls captivated people across the web with their cheerleading routine in a video posted by Na'Shiyahon on Twitter that became viral almost instantly, earning over 3 million of views, 50k retweets, and nearly 183k likes.
In the clip, Na'Shiyah, who just graduated from high school, showed off her senior solo routine wearing her dark blue cheerleader outfit from Granby High School. The girl was cheered by her friends as she showed off her skills, but just before finishing, her little sister joined in on the fun.
Wearing yellow shorts, a white t-shirt, and white shoes, Sherriyah stepped in with confidence at her big sister's signal as they danced in perfect synchrony to the last part of the routine while spelling the school's name.
The moment ended with a sweet hug between the sisters and 'awws' from their audience.
Speaking to ABC13, Na'Shiyah explained that her sister has loved cheering since she was a little girl, always watching her on practices and asking how to do specific routines.
"Like, before a game, she'll pull me to the side and be like 'Come here. How do you do this? Which way does this go?'" And then she'll go out there," said the college-bound girl.
Sherriyah looks up to her big sister to follow her example in life. So, Na'Shiyah knows she has to live up to her sister's expectations if she wants to set a good example for the little girl.
Na'Shiyah enrolled in the Virginia State University, which is a bit far from home, and even though she had her doubts choosing colleges because she didn't want to leaver Sherriyah alone, she's sure they would figure something out.
These lovely sisters' bond shows that siblings can have beautiful relationships and that, despite the usual discussions that can arise, the love and admiration for each other are always stronger.
ANOTHER PAIR OF CHEERLEADING SISTERS AND THEIR BROTHER
Meanwhile, another pair of adorable sisters were ambushed by their brother as they showed off their cheerleading routine.
The girls asked their mom to record them while doing the dance, but they were so engrossed on getting their steps right that no of them noticed their hilarious brother showing off some crazy moves behind them, stealing the show effortlessly from the smiling pair.
"They were not to happy when they ended up watching the video! (But their brother sure does have some dance moves!) It took all I had not to bust out laughing while videoing!!" wrote the mom of three on the caption of her video.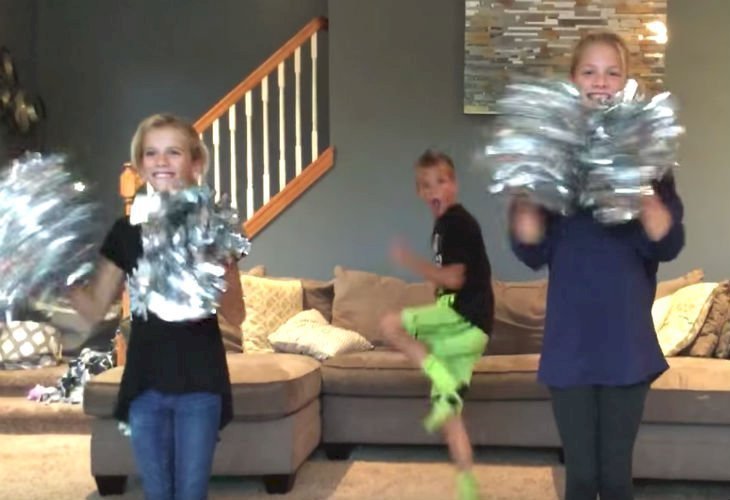 Source: YouTube/ Kim Kramer
Please fill in your e-mail so we can share with you our top stories!