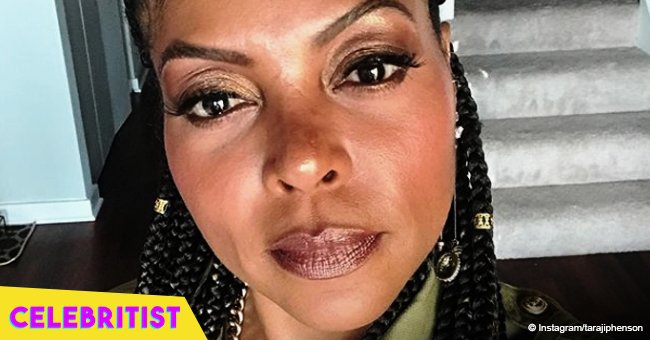 Taraji P Henson flashes toned legs in a slit skirt while arriving at 'Good Morning America'

Actress Taraji P. Henson, best known for "Hidden Figures" went to "Good Morning America" to promote the new season of her show, "Empire."
When she arrived at the set, the 48-year-old woman was wearing platform blue shoes, blue jeans, a black top, and a black leather jacket. However, she changed her outfit to a black blouse, matching high heels, and a white patterned slit skirt when appearing in front of the cameras.
One of the first things she said was, "I'm glad I made it!" complaining about the crazy traffic in New York. Apart from that, she shared some details about her engagement to Kelvin Hayden.
The actress revealed that she had to finish filming a movie before starting to think about the plans for the wedding.
HER MARRIAGE
Henson pointed out that she would be getting married next summer between June and July. Later, the actress said that Hayden probably thinks he would get drafted or something similar as he works out a lot.
She added that her man didn't want his professional-football-player body to go away, something that encouraged and motivates her to work out, too. The hosts of "GMA" later asked about Henson's dog, K-Ball, and even gave her a pillow with his face on it.
"EMPIRE"
They talked about the upcoming fifth season of "Empire," wherein her character, Cookie, will have a different development as Lucious will realize how much he needs her.
After that, she said that Terrence Howard, the actor who portrays Lucious, liked to suck his thumb a lot. She quickly noted that it was not true, but that since there was a rumor about her being pregnant around the Internet, she wanted to create one about Howard.
HER PREGNANCY RUMOR
The actress made sure to say that she was not pregnant and that, even though it was not the first time she denied the rumors, people kept asking it on social media.
HER RELATIONSHIP WITH HAYDEN
Henson and Hayden met at a 2015 party organized by her makeup artist who thought she needed to date. The actress was first attracted to Hayden when she saw his picture, and after meeting him physically at the party, their connection became evident, and the rest is history.
A RECENT PHOTO
The actress recently took to Instagram to share a photo of the couple shaking a lovely kiss. Hayden went shirtless to flaunt impressive biceps and taking a selfie.
Taraji was kissing him while holding his head and wearing a swimsuit and dark sunglasses. For the caption, she wrote, "see you soon," setting clear that they would be apart from each other for a while.
Please fill in your e-mail so we can share with you our top stories!