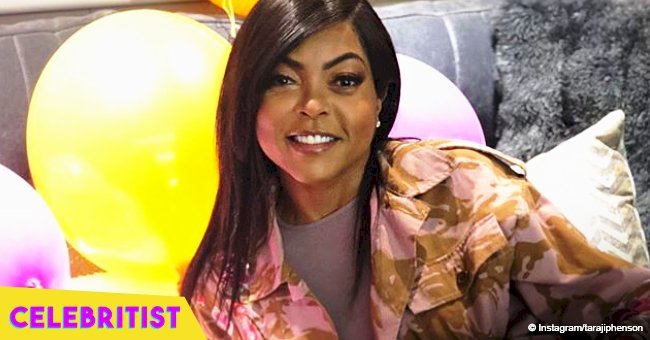 Taraji P. Henson shares passionate kiss with her shirtless fiance in recent photo
"Empire" star, Taraji P. Henson, was recently pictured sharing a kiss with her fiancé, Kelvin Hayden. Some days back, the actress set the record straight about whether she was pregnant or not.
Henson and former NFL star Hayden looked so in love as they shared a kiss in what appeared to be an outdoor setting. A hunky Hayden went shirtless to flaunt impressive biceps. He also seemed to be taking a selfie of their kiss. The "Acrimony" lead lady wore a bikini top, and she matched with her boo in dark sunglasses.
Henson's caption indicated that the lovebirds would be apart for a while, and judging from the crying emoji, she wasn't looking forward to it.
"See you soon!!!!" she wrote. "NOT SOON ENOUGH!!! #IHATEbeingawayfromhim"
Henson, 48, was recently put on the spot after rumors began circulating that she and Hayden were expecting their first child. The mother-of-one enlisted the help of Instagram to rubbish the speculations.
Sharing a photo of herself at the U.S. Open, Henson asked sarcastically:
"Hey baby are you in there?"
She also added the hashtag #FakeNews just in case anyone was still in doubt.
Back in 2011 when her teenage son was heading for college, Henson hinted at her desire not to have any more kids. "You want to know what my birth control is? It's called 'teenager,'" she joked at the time.
In an interview posted on YouTube last week, Henson confirmed there wouldn't be any Henson-Hayden baby, saying "No. We're done."
TAKING IT SLOW
Henson is not a fan of being rushed, whether it's for a baby, or even for a wedding. The "Hidden Figures" star once confessed, "I'm trying to just enjoy being blissfully engaged for a minute."
Henson and Hayden, 35, got engaged last Mothers' Day. The actress announced the good news on Instagram with a photo of her sparkling ring as she raved about the Super Bowl champion getting on one knee.
Henson and Hayden met at a 2015 party organized by her makeup artist who thought she needed to date. The actress was first attracted to Hayden when she saw his picture, and after meeting him physically at the party, the rest, they say, is history.
Please fill in your e-mail so we can share with you our top stories!