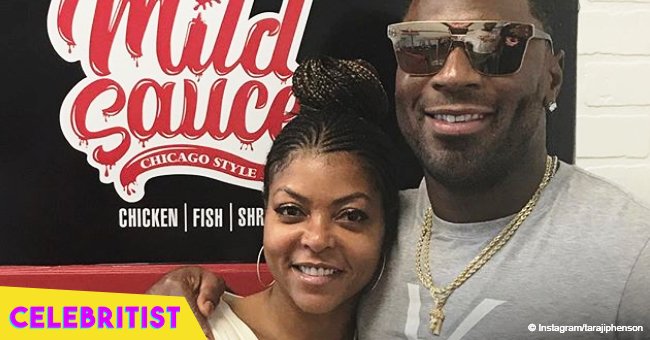 Taraji P. Henson reveals honest response to pregnancy rumors

Taraji P. Henson finally puts an end to rumors about her pregnancy by revealing the truth during her latest interview. She also talks about her views on having more children.
She may be engaged to her fiancé, Kelvin Hayden, but Taraji P. Henson insists she isn't pregnant. The "Empire" star candidly denied rumors she was expecting a child during a recent interview with Extra.
"I am not pregnant, y'all. Please, cut it out," Henson claims to settle persistent rumors once and for all.
She also addressed the telltale signs people used to speculate about her pregnancy. One of them involved her seeming avoidance of alcohol during the U.S. open which she also denied.
"I was drinking a wine spritzer so yes, there was alcohol — I was just pacing myself."
As for Hayden coddling and holding her, she says,
"So that makes me pregnant? He does that to me all the time."
Henson who finds the whole rumor absurd just laughed about it with the show's host. Meanwhile, when asked about whether she and her fiancé planned to have more children, she also flatly said,
"No, we're done."
Henson has a grown son while her fiancé has three children who she says "aren't teenagers yet" before adding, "We're good."
Rumors of Henson's pregnancy circulated about two weeks ago and before she denied it on Extra, she already tried to quash the gossip by posting a photo on her Instagram during the U.S. Open. She wanted to show the world that she wasn't hiding any baby bump and even placed the hashtag #fakenews to accompany her caption which read,
"[eyes emoji] for that baby bump HEY BABY ARE YOU IN THERE"
Henson was joined by Hayden in the red carpet of the U.S. Open. They stunned standing next to each other, each wearing stylish outfits to the occasion. Henson wore a loose bomber jacket fueling speculation of her pregnancy as reports suggested she skipped the alcohol and ate everything she could get her hands on during the event.
Now that that rumor has finally been put to rest with her latest interview, it's possible new rumors will emerge speculating on her wedding. The actress said she was giving herself a year before tying the knot despite previous talk that she already got hitched during a trip in Anguilla in June.
Please fill in your e-mail so we can share with you our top stories!