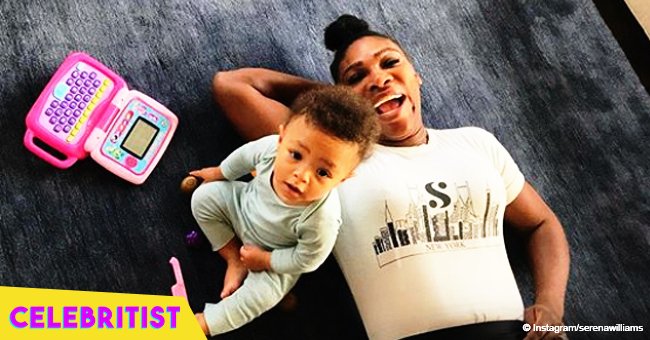 Serena Williams' daughter steals hearts with her beautiful smile, wearing cute sunglasses in pic
Alexis Olympia could bright anyone's day wither adorable smile and cute fashion style. The 1-year-old girl recently stunned with a pair of stylish sunglasses in a pic shared to her Instagram account, after her mother, Serena Williams, revealed what Olympia did to cheer her up after her U.S Open loss.
Serena Williams' daughter has been melting hearts all over social media since she was born, and as she keeps growing up, the more people fall under her charms. The adorable tot has an Instagram account run by her parents, and in a recent throwback pic they shared of the girl, Olympia lives up to her description of the happiest baby in the world.
In the pic, the little tot is wearing a sleeveless white t-shirt, beaded necklace and a pair of white-rimmed sunglasses as she smiles happily to the camera while being held by a woman.
"Flashback Friday. Trying to get mama to have some fun!" said the caption.
Fans immediately took over Olympia's comment section to send love to the girl and her tennis champion mother. "The most chill baby in the world!" wrote one fan. Another added, "Oh Serena, she is so gorgeous!! Love you, Olympia you are such a happy baby," and a third one agreed "She is soo cute!! Come on mama Serena; we love you. Remember you have a great family and millions of people who are backing you up."
OLYMPIA'S TRICK TO MAKE HER MOM HAPPY AFTER THE U.S OPEN
Just a few weeks ago, Serena Williams faced one of her most difficult moments in tennis after losing the U.S Open final against Naomi Osaka in a controversial game. The 36-year-old got into a heated discussion with the chair umpire that eventually led her to call the man a "thief" for stealing one point from her, causing the man to dock one entire set from Williams.
While she was devastated by the loss, Williams stood her ground and did her best to keep a neutral face through the trophy ceremony, however, once she was out of the spotlight, Williams went straight to her car, where baby Olympia was waiting.
In a "No Filter" podcast recorded three days after the final, and posted a few days ago, Williams revealed to host Mia Freedman that Olympia calmed her down almost instantly with an unexpected gesture.
"I got in the car, and Olympia was in the car. It was so weird. She started giving me kisses; she never gives me kisses. She doesn't even know to give kisses ... and she just grabbed me."
"This little baby is so smart," she added.
Olympia's kisses did the trick, as Serena revealed that it was hard for her to keep her mood down while taking care of the adorable tot. As she said:
"It's just hard to be too down ... when you have someone to take care of. It puts everything in perspective."
Please fill in your e-mail so we can share with you our top stories!