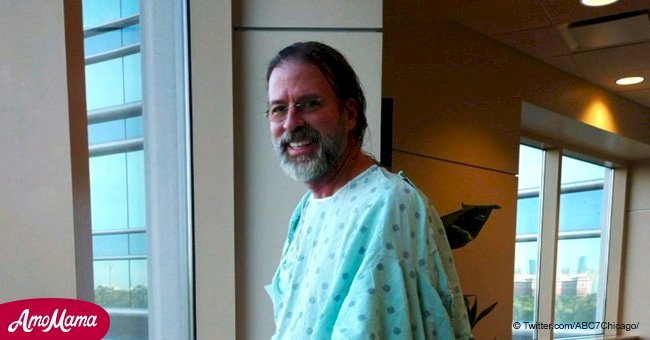 Man who died twice in one day learns he has a rare and deadly genetic condition
After Karl Wiggins collapsed behind the wheel of his car he found out he had a rare genetic condition.
In March Karl Wiggins, 54 collapsed while driving with his mother, who took control of the vehicle and pulled over.
Bystanders witnessed the car veering off the road and called 911 then rushed over to help Wiggins' mother. Police also arrived and performed CPR.
Read more on our Twitter account @amomama_usa.
BYSTANDERS AND EMERGENCY SERVICES WORKED FAST
EMT officers arrived shortly after but could not revive him on the scene. Wiggins was rushed to the hospital where he got revived by doctors using a defibrillator, which the EMT's did not have on scene, then his heart stopped again. The doctors worked at stabilizing him once more and performed electrocardiography (EKG) test.
The doctors diagnosed Wiggins with an extremely rare genetic condition called Brugada syndrome, also referred to as the sudden death syndrome. First described in 1917 in the Philippines, locals called it bangungut, meaning 'to rise and moan in sleep.' The name derived from the sounds those with the syndrome make often while sleeping, also known as 'moaning death'.
Similarly, an 11-year old girl Bella, daughter of Rachel Burton from Boston was also diagnosed with a rare genetic condition called Morquio Syndrome. Symptoms begin between the ages of 1-3. and include short stature with a long torso. Abnormal bone and spine development.
It affected her mobility and later on required the help of a service dog for her to move around. Bella got George, a great Dane service dog after having volunteered at Service Dog Project, Inc. for a year, and are best friends.
The Mayo Clinic views the Brugada syndrome as a potentially life-threatening heart rhythm disorder where individuals with this syndrome have abnormal heart rhythms from the lower heart chambers causing them to go into cardiac arrest. For healthy individuals the prognosis is positive, drug therapy and implantable cardioverter-defibrillators are the main treatment options, even though no cure for it currently exists.
Brugada syndrome can exist without being symptomatic for years and can cause different symptoms ranging from dizziness, fainting, or seizures. Another rare genetic disease named 'laughing death' share the ability to remain asymptomatic for long periods.
'Laughing death' emerged in the highlands of Papua New Guinea when Australian gold prospectors surveying the area in the 1930s realized about a million people lived there. Researchers returned in 1950 where they first came into contact with this disease, named kuru by the locals. To find out why the locals referred to as the 'laughing death' read here.
Please fill in your e-mail so we can share with you our top stories!