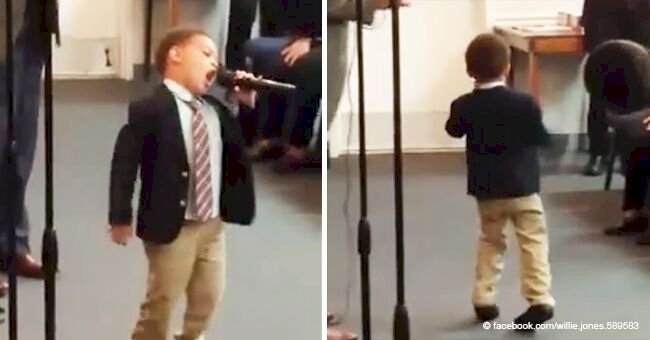 Little boy went viral for captivating the churchgoers with his voice & moves during worship

Caleb Tyler Serrano is a young boy who became an Internet sensation after a couple of videos of him singing in churches went viral. His energy is outstanding.
One of the clips, uploaded to Willie Jones' Facebook page, portrayed the boy, then four years old, wearing black shoes, beige pants, a light shirt, a striped tie, and a navy blazer.
While the music played, Caleb sang and danced to it, feeling the rhythm just as any grown-up musician would. People from the church behind him couldn't help to use their phones to record such a marvelous performance.
Several churchgoers stood up and clapped along with the boy and choir's music, proving that they were enjoying the presentation. So far, that video has more than 3.6 million views, and it has been shared more than 33,000 times.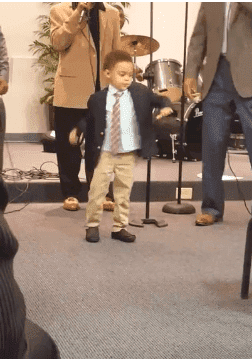 Source: YouTube/Richard Serrano
WOWING A DIFFERENT CROWD
Another video uploaded to Richard Serrano's YouTube channel, the boy's father, portrayed Caleb wearing a similar outfit singing in another church. That clip has almost 900,000 views since it was released in mid-2016.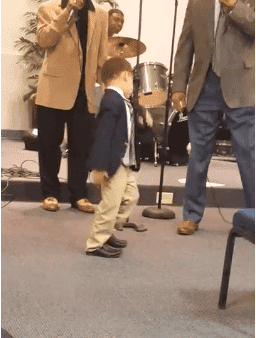 Source: YouTube/Richard Serrano
Caleb's performances were so popular that one of the world's largest casting agents, Kat Erangey, saw it, and, after a short Skype interview, he was chosen to appear on "Little Big Shots," the show that sits together young artists and Steve Harvey to talk about their lives and plans.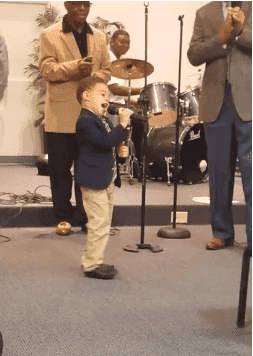 Source: YouTube/Richard Serrano
A "MOVIE STAR"
The young boy revealed that he felt like a movie star as meeting Steve, one of the "Original Kings of Comedy," was great. Caleb added that he loved gospel music and singing for Jesus.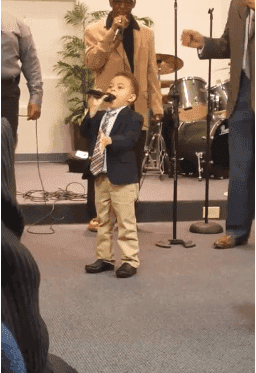 Source: YouTube/Richard Serrano
HIS EXPERIENCE
Even though he is six years old at the moment, he has been leading worship at his home church, Ebenezer Baptist, for three years already while being a member of the children's choir.
"Caleb is an old soul, full of intelligence and just an all-around joy to be around. Everyone has shown nothing but love for Caleb and been extremely supportive of his gift," admitted Richard.
ANOTHER SURPRISING CHILD
Caleb is not the only youngster who has wowed the Internet with his amazing singing skills as Sophie Fatu went to "America's Got Talent" to surprise the judges and the audience.
Even though she was only five years old at that time, she sang Frank Sinatra's hit song "New York, New York." The girl did an excellent job, receiving praises and even a standing ovation from the judges and the audience.
Simon then added that she was the youngest contestant in the show. Unfortunately, Sophie didn't make it to the live shows despite the praises, thereby ending her "AGT" journey.
Please fill in your e-mail so we can share with you our top stories!