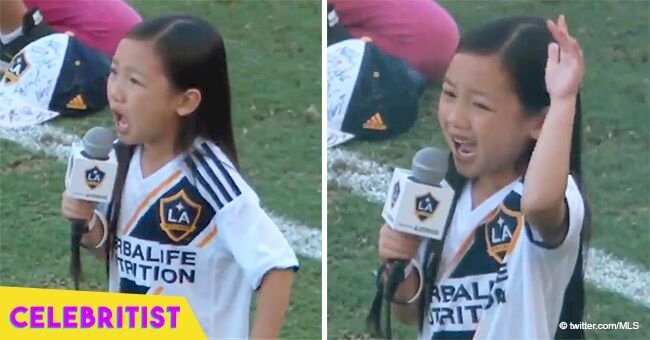 7-year-old girl wows crowd with stunning rendition of the national anthem

A 7-year-old girl took center stage before the LA Galaxy vs. Seattle Sounders game to sing the national anthem, and her stellar rendition of "The Star-Spangled Banner" has since then gone viral.
Malea Emma Tjandrawidjaja belted out her impressive version of the American national anthem last Sunday at the StubHub Center in Los Angeles, and she made sure to wow the crowds while at it.
Although the singing of the national anthem is often done by talented singers from all over the country, Malea's version has left people speechless, especially since she has that much talent at just 7-years-old.
After LA Galaxy posted her rendition on Twitter, it has since then gotten more than 19,000 retweets, almost 57,000 likes, and about 2200 comments.
People on the social media app started to compliment the young girl for her talent, and Malea Emma herself responded to these compliments. It turns out, she has a Twitter account that is run by her parents, and according to the description written on it, she is a "7-year-old singer, actor, model, and anthem girl".
She is not only an amazing singer, but she's an actress and a model, too! With a voice like hers, it's not surprising that it's not her only talent, and we just can't wait to see where this will take her in the future.
Given her young age, proper training and honing of her skills are essential to her future career, and if she does end up having a career in the entertainment industry, she can count on thousands of people to cheer her on - and those will be the same people who have been applauding her "Star-Spangled Banner" rendition.
It's admirable that young people nowadays have so much respect for the United States, with Malea giving such a soulful, heartfelt, and passionate version of the national anthem, and a group of three boys, who recently also went viral for their dedication in folding the US flag properly after their flag ceremony. In the viral photo, one of the boys laid down on the floor just to make sure that they did not violate any of the US flag codes, and it is instances like these that should inspire the next generation to do the same and take care of their motherland.
Please fill in your e-mail so we can share with you our top stories!