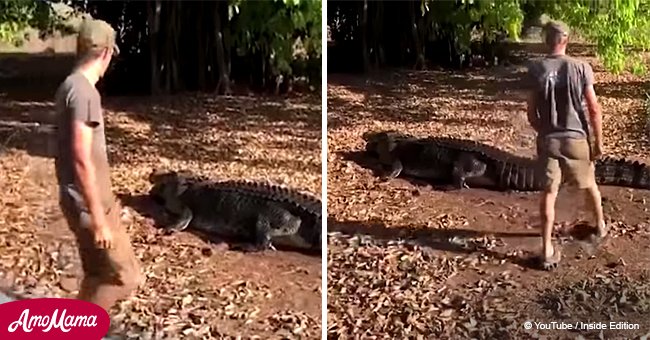 Photos of a tourist hopping on the back of a crocodile in Australia have gone viral

A Danish tourist visiting Australia decided to wrestle a crocodile.
Niels Jensen from Viborg, Denmark, was visiting one of Australia's wildlife parks in the Northern Territories when he decided to take a chance.
His escapade has gone viral and made him a video star, but it has also aroused the wrath of Australian wildlife authorities.
In the video posted by Inside Edition on YouTube, Jensen can be seen baiting a huge crocodile, then jumping on to its back.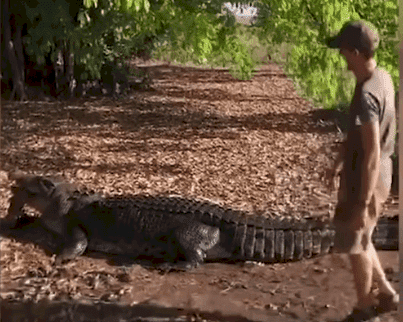 Source: YouTube/ InsideEdition
"After seeing what a crocodile is capable of doing, I don't think it was dangerous, I know (it was). Even with a crocodile like this, that (is) used to humans, is it a scary feeling sitting on something that could kill you in a fraction of a second."
Niels Jensen, InsideEdition, September 24, 2018.
HE DISTRACTED THE GIANT PREDATOR WITH A WALLABY
Jensen, 22, risked serious injury, as an estimated 14 people have been killed by crocodiles in the Northern Territory alone since 2005.
In order to distract the predator, Jensen waved the carcas of a wallaby in front of the animal. Then, when the crocodile snapped it up and started eating, the Dane jumped on its back.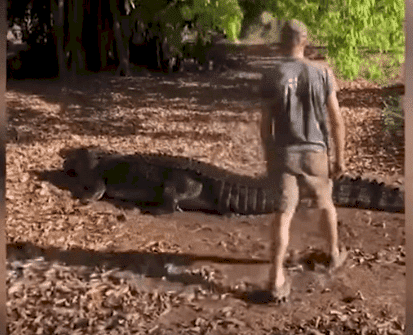 Source: YouTube/ InsideEdition
A CROC AS BIG AS THE FAMILY CAR
The crocodile Jensen chose to contend with weighed in at a hefty 650 kg and measured 4.7m. The animal was a saltwater crocodile, the largest of all living reptiles, and males of this species can reach sizes up to 6.30 m.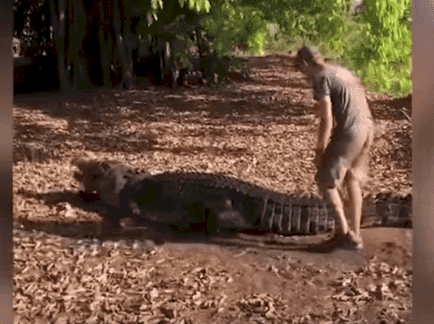 Source: YouTube/ InsideEdition
DANISH TOURIST RISKED THE DEADLIEST BITE ON THE PLANET
Saltwater crocodiles have the strongest bite of any existing animal, and are ferocious predators and extremely aggressive when their territory is invaded.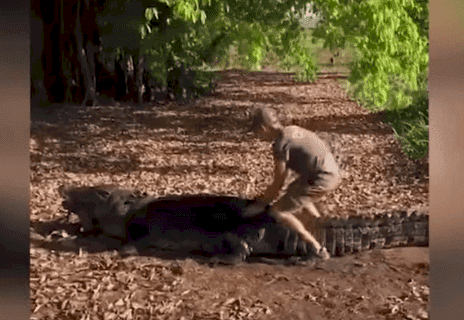 Source: YouTube/ InsideEdition
THE "DANISH CROCODILE DUNDEE" ADMITS ACT WAS FOOLISH
The young man admitted that now that he knows more about the saltwater crocs, he realizes how dangerous his escapade was and that he had literally put his life on the line.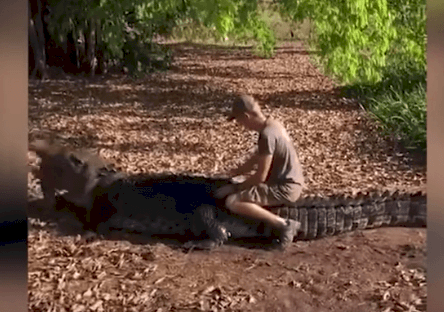 Source: YouTube/ InsideEdition
HOW TO STAY SAFE IN CROCODILE COUNTRY
The Australia Department of Tourism and Culture advises tourists not to follow in Mr. Jensen's footsteps.
"Saltwater crocodiles are large and potentially dangerous animals and we encourage everyone to be crocwise at all times," said Director Tracey Duldig.
She qualified Jensen's behavior as reckless and dangerous and alerts people to the fact that saltwater croc attacks occur in Australia regularly. Tourists are advised to stay out of lakes and lagoons where these predators might lurk.
Fishermen should not clean fish near the water as the blood might draw the unwelcome attention of a hungry crocodile.
In a related story, Australian park rangers in the Katherine river area trapped a male saltwater croc weighing approximately 600 kilos and measuring 4.71 meters long, which is the average size of a family car.
Please fill in your e-mail so we can share with you our top stories!