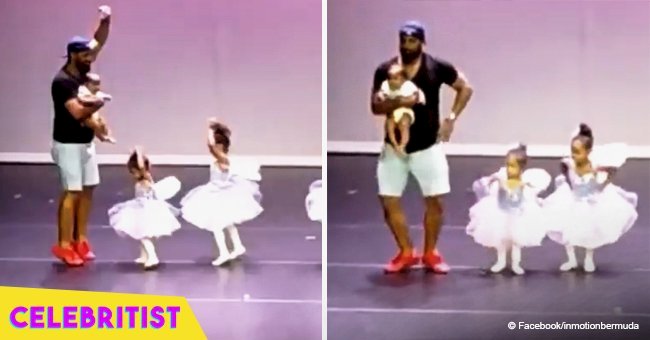 Dad steals the show after joining his nervous daughter on stage in viral video
One Bermuda dad is being hailed as a hero after joining his nervous daughter on stage for her ballet performance. The heartwarming moment caught on camera has since gone viral.
The almost three-minute clip shows young ballerinas of the In Motion School of Dance as they file onto the stage for their dress rehearsal performance. Led by two instructors, the dancers look ready to wow the crowd.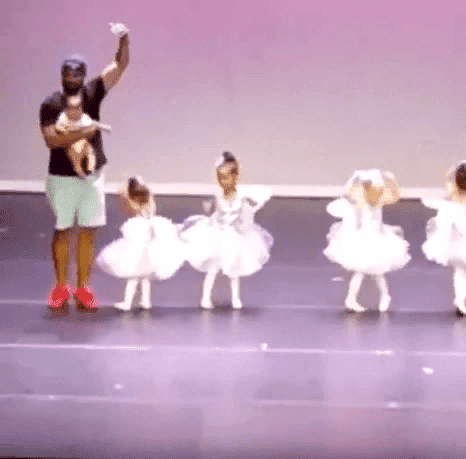 YouTube/In Motion School of Dance
But one dancer is not happy. Two-year-old Bella had a case of stage-fright and began to throw a tantrum. Nothing her instructor does helps Bella to calm down, so they motion for dad to come to the rescue.
Marc Daniels, a 39-year-old father of three, did not miss a beat as he climbed on stage while holding his youngest daughter, Suri, in one arm. The hunky dad, dressed in a black T-shirt and blue shorts, pulled off the twirls and spins and pointed toes in sync with the cute ballerinas.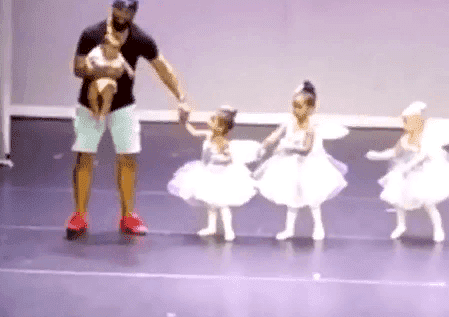 YouTube/In Motion School of Dance
LEGAL DANCER
Laughter from the audience proved that the multi-tasking dad was the star of the show. Daniels stayed on stage throughout the dance and filed out along with the girls when it was time to go.
The dance school shared the adorable video on its social media pages, and it went viral in no time.
Daniels, a self-employed lawyer, explained that Bella was usually an enthusiastic dancer but just appeared to be having a bad day.
"Despite having a tantrum, I can tell she wanted to stay on stage, and I didn't want to discourage her before the big performance by making her be the only one to come off," he continued.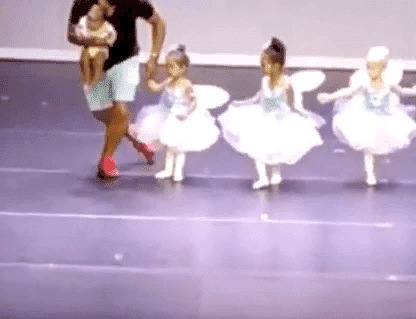 YouTube/In Motion School of Dance
After telling Bella, he loves her and that she's a fantastic dancer, the doting dad then asked if she wanted to "dance with daddy." Bella said "Yes," and Daniels got to work immediately.
Daniels further revealed:
"I've practiced with them at home on many occasions so it wasn't unfamiliar to me."
Daniels' feat has now been viewed by thousands of people; his reputation has even made it to court.
"Jurors, police officers and members of the prosecution have even been giving me twirls and plies as a token of appreciation for the video," the hero-dad shared.
"In court the other day, one of the magistrates made a comment about my moves that prompted the court to erupt into laughter."
DADDY'S GIRLS
Bella is such a lucky girl, and so is Tiara, another toddler who knows what it feels like to be soothed by her dad. Tiara was in tears and unable to speak, when her father, Popiando Vazquez realized all she needed was a hug. The viral clip has so far attracted millions of views and comments.
Please fill in your e-mail so we can share with you our top stories!