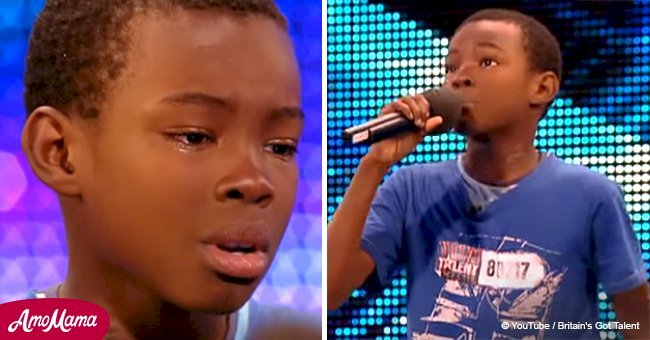 9-year-old boy cries during audition, but then amazes judges with his powerful singing

Malakai Paul, a 9-year-old contestant on "Britain's Got Talent" broke down on stage while performing Beyonce's song, "Listen."
It was too overwhelming for him to be on the stage, in front of the judges, cameras and millions of viewers. When he began to cry during his performance, his mother immediately ran onto the stage to comfort him.
She later explained that Malakai gets nervous easily and is prone to stage fright.
The judges gave him another chance, and this time around, Malakai received a standing ovation for his powerful performance. Even Simon Cowell was impressed and told Malakai:
"You got off to a bad start but you picked yourself up and people are going to like you a lot."
Malakai's spectacular performance has since gone viral and had been viewed by more than 45 million times since being uploaded to YouTube six years ago.
But before we share the video with you, allow us to introduce 14-year-old Leah Barniville from Meath, Ireland.
She also auditioned for "Britain's Got Talent," blew the judges away with her powerful rendition of "Caruso" by Lucio Dalla. Barniville also received a standing ovation, with Simon Cowell saying she was "honestly incredible." He added: "You don't know how good you are. A billion percent yes."
She later explained that winning would be a dream come true and said it is everything she wanted her entire life. All four judges voted to send Barniville to the next round and said they are eager to what the future holds for the aspiring singer.
Her video was shared online back in May 2017 and it had been already received a whopping 26.3 million views, with 98,000 likes and more than 2,500 comments.
Here are both videos. Which one do you like the most?
1. MALAKAI PAUL
2. LEAH BARNIVILLE
Please fill in your e-mail so we can share with you our top stories!