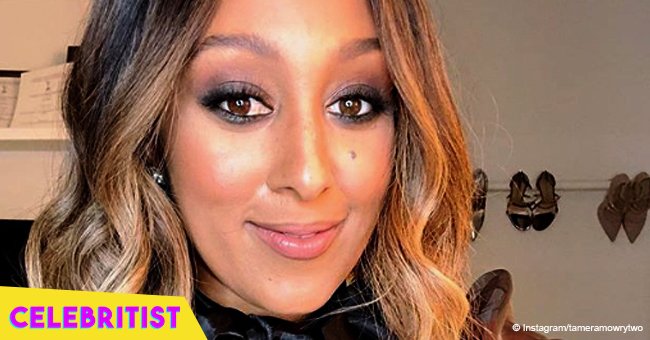 Tamera Mowry stuns in denim dress & thigh-high boots after being dragged for having 'an attitude'
Tamera Mowry proved, once again, that she's quite the fashionista in a recent pic shared to her Instagram account. The mother of two recently got into a heated debate with "The Real" co-host Jeannie Mai over the sexuality of two puppets from "Sesame Street."
The former "Sister, Sister" actress is looking better than ever after a refreshing vacation around Europe now that the fifth season of "The Real" kicked off with a rocky start. Tamera recently said on social media that she's happy about going back to the "glam up" look, a vast difference from her soccer mom summer look.
In a recent pic shared to her Instagram, the 40-year-old looks youthful and full of joy as she rocked a button up mini denim dress with a cinched waist and thigh-high boots. The entire body shot shows Mowry smiling softly to the camera with a hand on her waist, as she relied a positive message on her caption that says:
"Yesterday is gone. Tomorrow has yet to come. We only have today. Let us begin. Mother Teresa."
Fans of the actress and daytime host took to her comment section to share their thoughts on the picture. One of them was user @cotton.belinda, who wrote "You are an amazing role model in all aspects! It's a pleasure to follow you." Meanwhile, @fabulouseventz praised Tamera's outfit saying "Looking beautiful Tamera! Love those boots, the dress the hair; the whole look is stunning! You go Mom for the 2nd time!"
While Tamera's comment section looks pretty tamed under her recent posts, she had to deactivate it a few days ago after she got into a heated and awkward discussion with Jeannie Mai on the season premiere of "The Real."
TAMERA AND JEANNIE MAI DISCUSS OVER TWO PUPPET'S SEXUALITY
The women were discussing the controversy surrounding "Sesame Street"'s characters, Bert and Ernie, after a former writer of the show said in an interview that the two puppets were a "loving couple."
However, Sesame Workshop, the non-profit behind the kids' show, released a statement saying that Bert and Ernie are just friends and that as puppets, they don't have defined sexuality.
Tamera and the rest of the ladies were discussing whether or not the puppets being gay mattered to the kids that watch the show, and as a mother of two, she had a firm stand on the issue. "I know that when I was watching Sesame Street as a kid, it was one of my favorite shows. I wasn't really thinking about the genitalia and what they were doing sexually as a kid. They're puppets," she said, as reported by Madame Noire.
And continued:
"But as a parent, I'm like, what are you teaching my child? Are you teaching my children how to love one another? Are you teaching my children how to be friendly and create amazing friendships? That's what really matters. I don't care if they're brown, yellow, orange — whatever. What is the message?"
Jeannie then interjected, cutting Tamera off as she said "I hear what you're saying, but I disagree because they do care. And your kids are learning," she didn't get to finish before Mowry cut her back saying "At five years old and at three years old, my daughter isn't thinking…"
"Let me finish," Mai insisted. And proceeded to say that as a girl, she learned how to speak English with the show, but Tamera, visibly frustrated, cut Mai off once again saying "I'm speaking for my kids and my experience, so you can speak from yours."
Considering that Jeannie has made clear she doesn't want to have kids, people thought that Tamera's response was a bit out of line. It seems like she diminished Jeannie's opinion only because she's not a mother.
Despite the awkwardness of the moment, Jeannie and Tamera are on good terms, as both shared lovely pics with the other on their respective Instagram accounts, assuring the public that all was well.
Please fill in your e-mail so we can share with you our top stories!